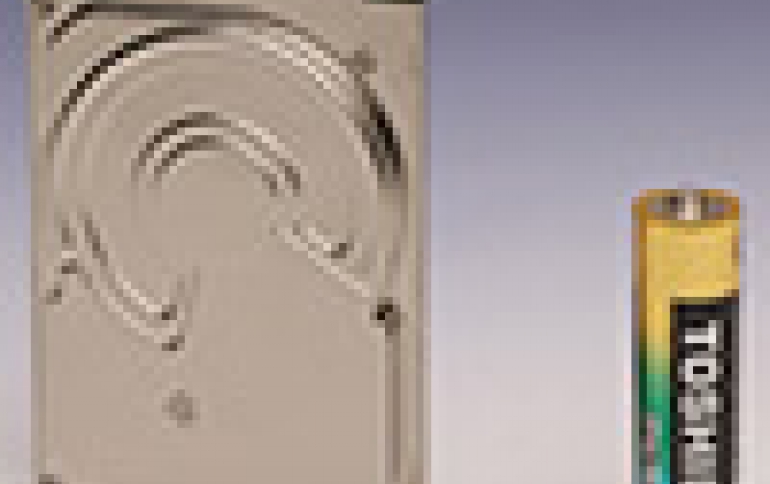 Toshiba Introduces 320GB 2.5-Inch HDD
Toshiba Storage Device Division (SDD) today announced the first 320GB 2.5-inch HDD, as the lead product in a new series of 5,400 RPM notebook drives. The company also expanded into the high-end 7,200 RPM performance class with a family of products offering up to 200GB capacity.

Toshiba's new 5,400 RPM 2.5-inch HDDs feature capacity points from 80GB to 320GB, using both 120GB-per-platter and 160GB-per-platter designs in the MK-46GSX and MK-52GSX families, respectively. The high-end 7,200 RPM MK-49GSY series features capacity points of 80GB to 200GB. All three families support the Serial ATA interface at a 3.0 Gbps data transfer rate, and free-fall sensor options are available on select models.

The company?s 2.5-inch HDD lineup now spans from the power-conservative segment with the existing 200GB 4,200 RPM MK2035GSS, to the mainstream market with the new 5,400 RPM MK-GSX series and, finally, to the high-performance category with the new 7,200 RPM MK-GSY offering.

Toshiba has designed a free-fall sensor option that enables the drive to respond to 10-inch or greater drops when integrated in OEM systems. Toshiba?s free-fall sensor option features Self-Monitoring, Analysis and Reporting Technology (SMART) events reporting and has been adopted by the industry for standardization as part of the upcoming ATA-8 interface specification.

Toshiba?s new HDD families are RoHS compliant and will begin production in the fourth quarter of 2007. For more information visit www.toshibastorage.com.