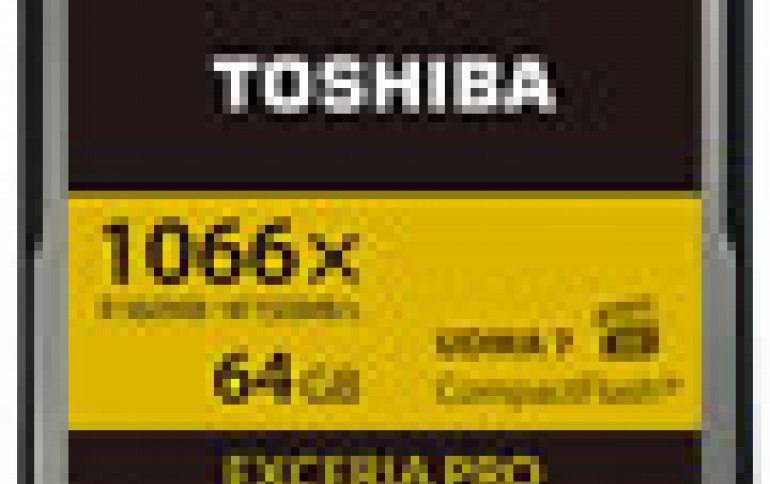 Toshiba to Launch CompactFlash Memory Card for Digital Single Lens Reflex Market
Toshiba will launch a new line of high performance CompactFlash (CF) memory cards, the EXCERIA PRO 2 series, targeting the digital single lens reflex camera market. The initial line-up of 16GB, 32GB, 64GB cards will come to market in spring of 2013 and will offer the world's highest level read and write speeds, according to Toshiba. The EXCERIA PRO CF cards integrate Toshiba's NAND flash memory and a specially developed firmware to achive a read speed of 160MB/s and write speed of 150MB/s.
The new cards are compliant with the CompactFlash Association (CFA) standard CompactFlash Specification Revision 6.0 and compatible with the UDMA7 high speed interface. The cards are also compatible with the latest Video Performance Guarantee standard, VPG-20. VPG-20 secures Full HD video capture streams at a minimum write speed of 20MB/s for compatible host devices and recording media. VPG-20 enables high quality Full HD video capture at high frame rates with no dropped frames.
The market for DSLR is expected to grow by some 50% in the period 2012 to 2015 and demand for CF cards will grow with it. Toshiba aims to capture a 30% market share by 2015 by developing high performance memory cards.
Capacity 

64GB 

32GB 

16GB

Price 
Open
Launch  
Spring 2013
Standard 
Card 
CF+ and CompactFlashSpecification Revision 6.0
VPG 
VPG-20
Max read speed 
160MB/s
Max write speed 
150MB/s 
95MB/s
Interface 
UDMA 7(Ultra DMA Mode 7 theoretical:167MB/s)
Power Supply Voltage 
3.3/5.0V
File Format 
FAT32
External Dimensions 
36.4mm (L) × 42.8mm (W) × 3.3mm (T)
Approx. Weight 
Approx. 10g.