Toshiba Launches First Notebook PC with HD DVD-ROM Drive in Japan
Toshiba today officialy announced the launch of the world's first notebook PC with an HD DVD-ROM drive. The "Qosmio G30/697HS" will be available in the Japanese market in mid May for approximately 400,000 Yen ($3,380). Along with playback of HD DVD content, the new Qosmio can read and write to current DVD and CD discs, including DVD+/-R DL (dual-layer) and DVD-RAM.
"Qosmio G30/697HS" is the first notebook in the world to integrate an HD DVD-ROM drive. The slim-type 12.7mm-thick drive achieves this thin form factor with an optical system requiring only a single objective lens to read HD DVD discs and to read and write to DVDs and CDs. The notebook is powered by an Intel T2500 Core Duo Processor (2.00GHz), and the NVIDIA GeForce Go 7600 graphics accelerator.
Note that the drive's HD DVD Application Logo (HD DVD-ROM) represents the optical drive's compliance with the HD DVD physical format, and does not represent compliance with the specification for the HD DVD General Logo defined by the DVD Forum. Advanced interactive and navigation features of the HD DVD Video format including, but not limited to Picture in Picture (PIP) and network download features are not supported by this product.
Advanced Access Content System (AACS) keys are integrated into the HD DVD drive for copy protection purposes. Occasional renewal of the AACS key is required, and done by connecting to the Internet.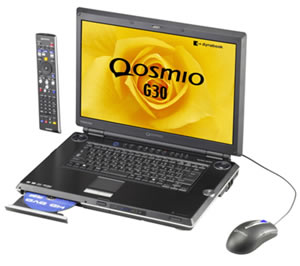 The Qosmio G30/697HS integrates two TV tuners, one for digital terrestrial broadcasts, the other for analog terrestrial broadcasts.
The most striking feature of the new Qosmio is its 17-inch diagonal widescreen, full-HD liquid crystal display. This WUXGA display supports 1920 x 1200 pixel resolution, achieving true high definition and the ability to playback HD DVD content (1920 x 1080 pixel). Beyond this, the new Qosmio also integrates an HDMI output in its external interface, allowing the PC to be hooked up to an HDTV and to act as the video source for a large-sized TVs or home theater projectors. Note that depending on HD DVD content, you may experience less smooth motion or lower performance. Viewing of HD DVD content on external display requires an HDCP capable HDMI or DVI input.
Basic specifications:
Technology: Intel Centrino Duo Mobile
Processor: Intel Core Duo Processor T2500 2.00 GHz
Chipset: Intel 945PM Express chipset
Memory/maximum: 1GB (512MB x 2)/2GB (PC2-4200, DDr2 SDRAM)
Display: 17-inch diagonial widescreen full-HD WUXGA LCD 1920x1200 (2-point backlit, 350cd/m2) VRAM/Graphic: 128MB/NVIDIA GeForce Go 7600
Hard disk drive: 240GB (120GB x 2, 5400rpm)
Optical drive:

TV tuner: Digital/analog terrestial broadcasting TV tuner (MPEG2 Real time hardware encoder)
Audio: Bass reflex type harman/kardon stereo speakers
Main ports: