Toshiba Launches New HD DVD Recorder in Japan
Toshiba today announced the launch of a new digital video recorder with HD DVD drive that integrates new features including recording of HD video to standard DVD discs. The new DVR, HD DVD VARDIA RD-A301, integrates HD Transcoder, which achieves longer recording time for high-definition (HD) video, and also supports"HD Rec", which allows recording of HD video to standard DVD discs in HD quality. The RD-A301 will be available in the Japanese market in the middle of December, and advance orders will be accepted from November 1.
The RD-A301 integrates an HD Transcoder that converts MPEG2 video, the standard for digital HD broadcasts, to MPEG4 AVC, a high-efficiency video compression technology that supports longer recording times while maintaining picture quality. As a result, longer HD videos can be recorded to HD DVD-R discs. The DVR also supports "HD Rec", which facilitates recording of HD video on conventional DVD discs, such as DVD-R discs. "HD Rec" allows a single-layer 4.7GB DVD-R disc to store up to two hours of HD video, working in combination with HD Transcoder.
Note that the "HD Rec" function is backed and developed by the DVD Forum and it is incompatible with the corresponding proposal of the Blu-Ray Disc Assosiation for the BD devices, the "AVCREC", found in Panasonic's BD hardware.
In addition, the Japanese Association for Promotion of Digital Broadcasting has not yet officially approved the recording of HD broadcasts to DVD, although it is expected to approve it soon.
By utilizing the MPEG4 AVC HD Transcoder when recording HD broadcasts to its integrated 300-gigabyte (GB) hard disk, the RD-A301 can store as much as 159 hours of video in HD picture quality. Note that at its launch, direct recording to hard disk or DVD disc in TSE mode is not possible. It is required to record to hard disk in TS mode first and transcode the recorded data in TSE mode. Direct recording to hard disk in TSE mode will be supported later by firmware update, Toshiba said.
The new DVR also integrates an HD DVD recordable drive that supports recording and playback of HD DVD-R, DVD-R, DVD-RAM and DVD-RW discs.
The RD-A301 also supports dual recording of HD broadcasts, a very popular feature of earlier VARDIA models, and can record two digital HD broadcasts simultaneously. The new DVR also achieves significant advances in downsizing, with a height of only 69mm.
In addition to standard support for "i.LINK dubbing" of HD video by connecting the DVR with another Toshiba DVR that supports i.LINK, the new DVR also supports "i.LINK dubbing" from D-VHS. This allows viewers to build an HD DVD and DVD library of HD unprotected content recorded in the past on D-VHS tape.
The new DVR also supports various discs, including playback of DVD packaged software, recording and playback of DVD-RAM, DVD-R, and DVD-RW discs, and playback of music CD.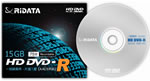 From November 1, 2007 to January 31, 2008, Toshiba will run a HD DVD player and recorder marketing campaign that will include a free HD DVD of "Transformers", this year's mega-hit movie, for purchasers of a relevant HD DVD product who register for the campaign. Toshiba will also offer 5 piecies of blank HD DVD-R media with each of the RD-A301, RD-A600, RD-A300 HD DVD recorders or the HD-XA2, HD-XF2 HD DVD players sold during the marketing campaign period. The discs are manufactured bt Taiwanese Ritek. They conform to the AACS (advanced access content system) content protection standard and can store 75-minutes of high-definition video each. Ritek said that it managed to cut the cost of the production of the new HD DVD-R discs by developing a flexible manufacturing system to upgrade its existing DVD disc production equipment.
Toshiba did not provide pricing details for the new RD-A301, although it is expected to be more affordable than the company's previous model.
Specifications