Toshiba to Start Sales of 4K-ready CompactFlash Memory Card, 8Mpx Image Sensor
Toshiba today announced that its new line of high performance CompactFlash (CF) memory cards, the EXCERIA PRO series, will go on sale from April 27th in the Japanese market. Sales will also follow in Asia, Europe and North America. The initial line-up of 16GB, 32GB and 64GB cards offers the highest level read and write speeds and complies with the new Video Performance Guarantee Profile 2 (VPG-65) standard.
The EXCERIA PRO CF cards integrate Toshiba's NAND flash memory and specially developed dedicated firmware. They achieve a read speed of 160MB/s and write speed of 150MB/s, the highest level yet reported.
The new cards are compliant with the CompactFlash Association (CFA) standard CompactFlash Specification Revision 6.1 and compatible with the UDMA7 high speed interface, ensuring they can support high performance DSLRs to the full. The cards are also compatible with the latest "Video Performance Guarantee Profile 2" standard, VPG-65. VPG-65 secures Full HD video capture streams at a minimum write speed of 65MB/s for compatible host devices and recording media. VPG-65 enables 4K resolution (a digital movie file format with horizontal resolution of approx. 4,000 pixels and vertical resolution of approx. 2,000 pixels) movie shooting and high quality Full HD video capture at high frame rates with no dropped frames.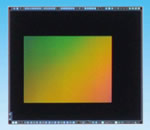 In related news, Toshiba has launched a 1.12µm, 8 Megapixel (MP) CMOS image sensor with a high dynamic range (HDR) function and a voice coil motor (VCM) driver.
The new back-illuminated "T4K05" features one of the industry's smallest pixel sizes with 1.12µm and a HDR function enhances image quality, even under conditions with high levels of light and dark contrast.
The new CMOS image sensor is equipped with a VCM driver, which provides automatic focus control. This minimizes the need for external lens control, supporting smaller and thinner camera modules.
The T4K05 is supplied in a 1/4-inch optical format and offers a 4:3 aspect ratio. Pixel count is 3,280 (V) x 2,464 (H) and frame rate for full-size images is 30fps.