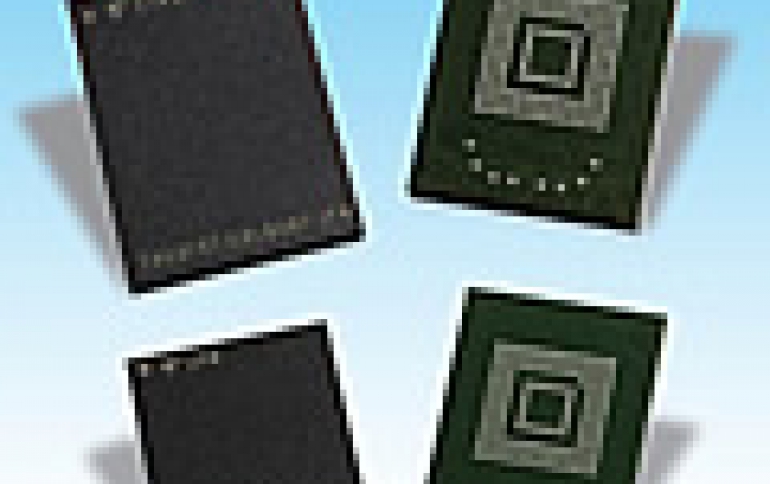 Toshiba Unveils Embedded NAND Flash Memory Products for Automotive Applications
Toshiba Memory Corporation has begun shipping samples of embedded NAND flash memory products for automotive applications that are compliant with JEDEC UFS version 2.1.
The new products meet AEC-Q100 Grade2 requirements and support a wide temperature range of -40℃ to +105℃, offering the reliability capabilities that are required by complex automotive applications. The line-up meets a broad range of applications requirements with five different capacities: 16GB, 32GB, 64GB, 128GB and 256GB.
The new products are embedded NAND flash memory products that integrate NAND chips fabricated with 15nm process technology and a controller in a single package. Utilizing the UFS interface allows the new products to achieve sequential read of 850MB/s and random read of 50kIOPs, which are approximately 2.7 times and 7.1 times faster than Toshiba's current e-MMC counterparts, respectively.
Other new functions specifically suited to automotive applications have been added to the new UFS products, including Refresh, Thermal Control and Extended Diagnosis. Refresh can be used to refresh data stored in the UFS and can contribute to the extension of the data's life span. Thermal Control protects against overheating in the high temperatures that can occur in automotive applications. Extended Diagnosis helps users to understand the condition of the product.
Toshiba says it is already in discussion with major automobile makers on the possibility of implementing the new line-up in next-generation projects.
Outline of the New Products
Interface
JEDEC UFS V2.1 standard
HS-G3 interface
Capacity
16GB, 32GB, 64GB, 128GB, 256GB
Power Supply Voltage
2.7-3.6V (Memory core)
1.7V-1.95V (Interface)
Temperature Range
-40℃ to +105℃
Product Name
Capacity
Package
Sample Date
THGAF9G7L1LBAB7
16GB
153Ball FBGA
11.5x13.0x1.0mm
Dec. 2017
THGAF9G8L2LBAB7
32GB
153Ball FBGA
11.5x13.0x1.0mm
Dec. 2017
THGAF9G9L4LBAB8
64GB
153Ball FBGA
11.5x13.0x1.2mm
Dec. 2017
THGAF9T0L8LBAB8
128GB
153Ball FBGA
11.5x13.0x1.2mm
Dec. 2017
THGAF9T1LBLBABY
256GB
169Ball FBGA
12.0x16.0x1.6mm
2Q, 2018 (Apr. - Jun.)