Western Digital Releases First 96-Layer 3D NAND UFS 2.1 Embedded Flash Drive for Smartphones
Western Digital today introduced the first 96-layer 3D NAND UFS 2.1 embedded flash drive (EFD), the Western Digital iNAND MC EU321, designed for high-end mobile and compute devices.
Leveraging Western Digital's 96-layer 3D NAND technology, UFS 2.1 interface technologies and Western Digital's iNAND SmartSLC 5.1 architecture, the iNAND MC EU321 EFD achieves sequential write performance speeds up to 550MB/s and 52K IOPs of random write speed. The controller architecture enables up to 800MB/s sequential read and 50K IOSs random read speeds.
The iNAND SmartSLC 5.1 technology maintains its high SLC (Single Level Cell) performance as the device approaches its maximum storage capacity by utilizing the SLC buffer to clean up fragmented data during idle time between bursts.
The EFD is available in a Unified small form factor, at 11.5x13x1.0mm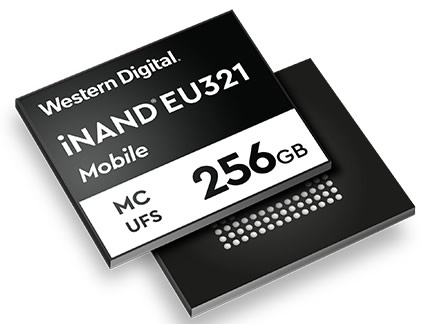 The company is currently sampling storage solutions to OEMs in capacities up to 256GB.