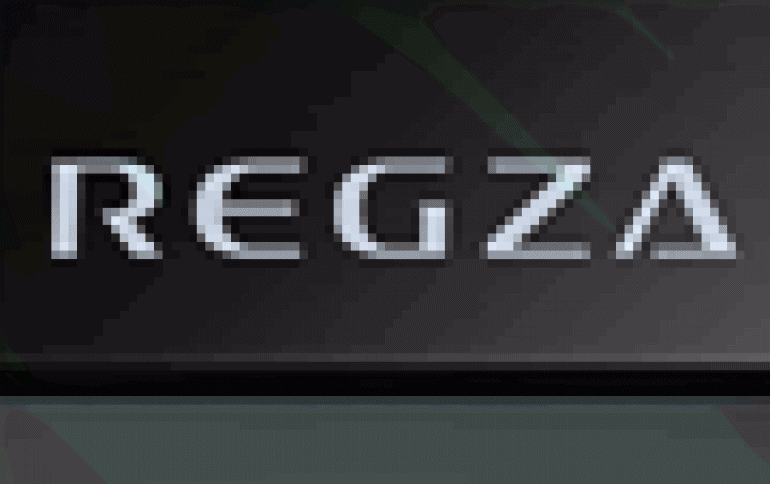 Toshiba Unveils Glasses-free 3D Notebook, Android Tablet Plans, New REGZA BD Player and HDTVs
Today was a busy day for Toshiba as the company announced plans to release the dynabook Qosmio T851/D8CR glasses-free 3D notebook PC, the 3D Glasses-Free Android 3.0 Tablet Regza AT300, the D-BR1 3D Blu-ray recorder as well as the new REGZA ZG2 of new 3D TVs.
Toshiba dynabook Qosmio T851/D8CR
Toshiba today unveiled the "dynabook Qosmio T851/D8CR", the world's first glasses-free 3D notebook PC able to display 3D and 2D content at the same time on one screen. The new PC will be available in the Japanese market from late July.
The dynabook Qosmio T851/D8CR employs Toshiba's 3D Window technology simultaneously display 3D and 2D content in separate windows in a single screen. Users can watch 3D images or enjoy 3D games in one window without any need for wearing dedicated glasses or installing a dedicated panel over the display, while at the same time working, browsing the internet or sending e-mail in another window.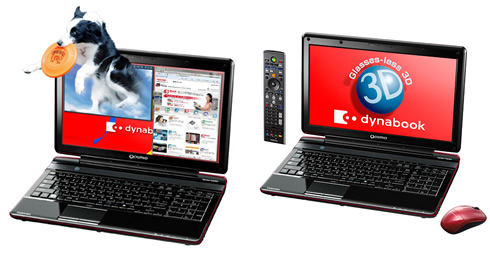 3D images are created using parallax, by delivering separate images to the left and right eyes. Toshiba has adopted a "face-tracking" function and "Active Lens" to fulfill this requirement. "Face-tracking" allows the web camera integrated into the dynabook Qosmio T851/D8CR to track the user's face and recognize the position of the eyes. "Active Lens", integrated into the LED panel, controls polarization of light delivered from the panel. These functions secure precise delivery of separate images to each eye, even when the user moves.
With SpursEngine, a dedicated image processor with advanced performance derived from the multi-core technology of the Cell Broadband Engine, dynabook Qosmio T851/D8CR boasts 2D to 3D real-time conversion technology that allows users to enjoy high-quality 3D images generated from 2D terrestrial, BS and 110 CS digital broadcasts.
These 3D images are made all the more natural and eye-friendly by Toshiba's newly introduced "Face3D" and "Caption stabilizer". "Face3D" uses Toshiba's distinctive high-speed, high-accuracy face detection technology to locate faces in 2D images and then applies a human depth template to the image, giving the features more depth and assuring a 3D appearance with graded shading. "Caption stabilizer" detects any captions in the image and keeps it constantly at the front of the image. The depth of the captions stays fixed and easy to read.
"3D Window" is realized by the "Active Lens", which controls polarization of the light delivered from the LED panel. With Active Lens turned off, the panel delivers normal 2D image; with it turned on, the panel delivers 3D images, separating the images sent to each eye. Active Lens can be turned off and on quickly and locally, which means individual parts of the LED panel can deliver 3D images. Thus the user can enjoy "3D Window" and 2D images shown simultaneously on one display.
Basic hardware specs of the notebook inlcude an Intel Core i5-2410M (2.3GHz), 8GB memory, Intel HM65 Express, chipset, Nvidia GeForce GT 540M (1GB) GPU, 750GB HDD, Blu-ray Disc player with BDXL support,
The notebook also runs Windows 7 Home Premium 64bit OS and it is equipped with 1x USB 3.0 and 2x USB2.0 ports, WiFi 802.11b/g/n, Bluetooth 3.0+HS and of course it offers Gigabit Ethernet connectivity.
Toshiba Android 3.0 Tablet Regza AT300
Toshiba will also launch its first tablet computer in late June in Japan and at around the same time in global markets, the company said Wednesday.
With the tablet, Toshiba will kick off an attempt to gain a 10 percent share of the global tablet market by 2013, the company's executives said.
The tablet PC will be ased on the Android 3.0 operating system and it is expected to cost around ?60,000 (US$730) in Japan.
The Japanese version of the tablet (Regza AT300) has a 1280 x 800 10-inch screen, 16GB memory, two webcams -- a front-facing 2-megapixel camera and a rear-facing 5-megapixel camera -- and connectors for USB, Mini USB, HDMI and an SD Card slot.
The AT300 comes with the NVIDIA Tegra 2 CPU at 1.GHz, as well as a LED Backlight 3D Glasses-Free screen and 16GB of internal memory. It will also support the SRS Premium Voice Pro for quality audio reproduction.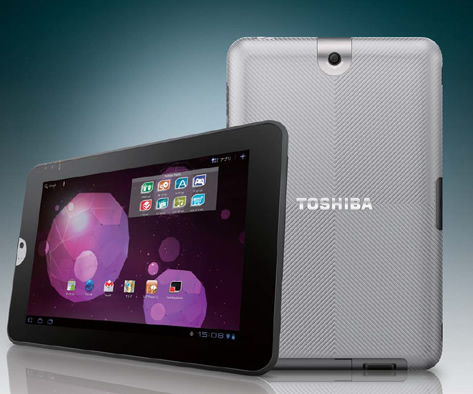 REGZA ZG2
Toshiba also unveiled today the REGZA ZG2 Series in Japan, available in 24, 47 and 55" models. These 3D TV comes with Toshiba?s new Full HD IPS Panel as well as CEVO Duo technology with Time Shifting and GAME/ANIMATION Mode.
All models are sold with 500GB of Internal HDD as well as USB HDD Recording functions.
Similar to the US Version the Regza Z2, the ZG2 also comes with DLNA Support, as well as being capable to record up to six programs simultaneously.
Available later this may, the Regza ZG2 will be sold at around 300,000, 390,000 and 490,000 Yen respectively.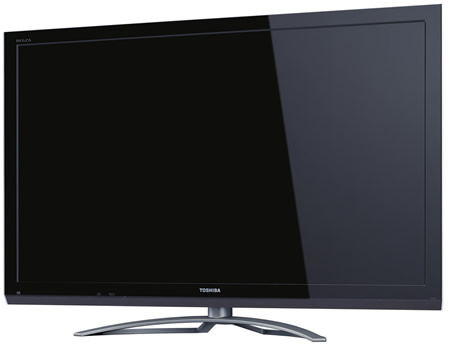 Model

55ZG2

47ZG2

42ZG2

Size

Internal HDD

1.5TB

for CEVO

500GB for normal recording

Tuners

9 x digital terrestrial
BS/110 degree CS digital ? 2

Panel

1,920 ? 1,080 pxl
LED Backlight
IPS 4x

Contrast ratio
(Dynamic contrast)

1,300:1
(2,000,000: 1)

1,400:1
(2,000,000: 1)

1,500:1
(2,000,000: 1)

Viewing angle

178

degrees vertically and horizontally

Speakers

Four full-range 2.0 x 6.5cm diameter
A base diameter 6cm Subwoofer
10W x 2 + 10W

Inputs

HDMI x 4
D5 x 1
Composite x 2
1x HDMI analog audio input

Outputs

1 x optical digital audio output
1x Headphones

Other cnnectors

USB, Ethernet, SD card slot

Power consumption

215W

190W

190W

Dimensions
(Width x depth x height)


130.4 x 31.4 x 87.4cm

112.7 x 25.4 x 75.6cm

101.7 x 25.4 x 69.4cm

Weight (with stand)

25kg

22kg

16.5kg
REGZA D-BR1 3D Blu-Ray recorder
Toshiba also introduced a new ultra compact (238x33x196mm) Blu-Ray 3D Writer. Announced to be available in Japan around June this year, the D-BR1 the BD recorder support of AVCHD Video via USB and the possibility for your to record the contents of your Video camera directly via your D-BR1, as well as being a fully capable 3D Blu-Ray player.
Toshiba is planning to sell its new D-BR1 at around 35,000 Yen.