Xbox One X Powerful Video Game Console Launches in November
Microsoft's next console referred so far as "Project Scorpio" has an official product name -- Xbox One X. The 4K-focused gaming system launches in November along with many 4K games.
Xbox One X is bringing 4K HDR visuals to console gamers with six teraflops of graphical power and a sleek design similar to the Xbox One. It's price will be $500.
During an E3 event, Microsoft demonstrated the Turn 10's Forza 7 game on Xbox One X. Alongside "super high-resolution assets," Forza 7 will feature the Porsche 2018 GT2 RS supercar, a car as yet not available to buy for real. Microsoft promises that 22 console exclusives will launch on both the OG Xbox One and Xbox Scorpio.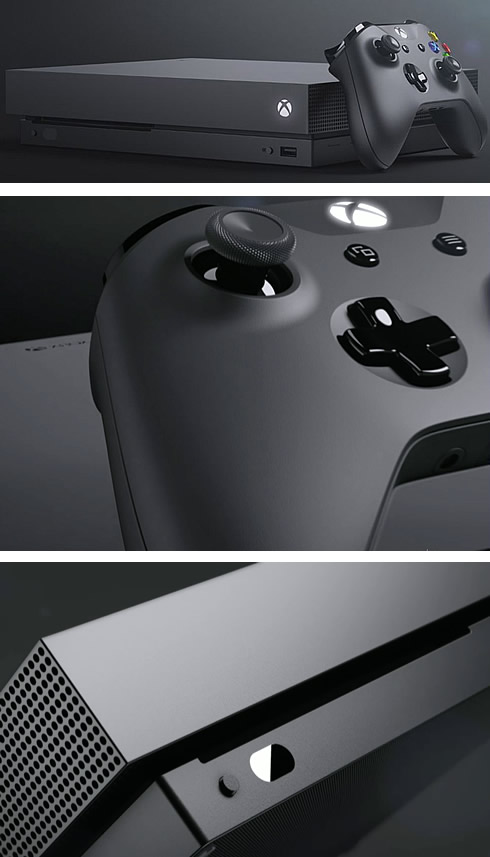 Following Forza, Microsoft debuted Metro Exodus, a sequel to 4A Games' Metro Last Light that's due for release in 2018. This was swiftly followed by a 4K demo of Assassin's Creed Origins. PC shooter PlayerUnknown's Battlegrounds will launch exclusively on Xbox One and Xbox One X later this year. The list of games showcased, most of which sport 4K and HDR support, is as follows:
Forza 7 (Xbox exclusive, October 3)
Metro Exodus (2018)
Assassin's Creed Origins (2017)
State of Decay
PlayerUnknown's Battlegrounds (Xbox Exclusive)
The Darwin Project
Minecraft (with a new 4K "Super Duper Graphics Pack" update, 2017)
Dragonball Fighter Z (Console launch exclusive, 2018)
Black Desert (Console launch exclusive)
The Last Night (Console launch exclusive)
The Artful Escape (Console launch exclusive)
Code Vein (Console launch exclusive, 2018)
Sea of Thieves (Xbox exclusive, 2017)
Tacoma (Xbox exclusive, August 2)
Super Lucky's Tale (Console launch exclusive, November 7)
Cuphead (Xbox exclusive, September 29)
Crackdown 3 (Xbox exclusive, November 7)
Let's have a few woeld about Forza Motorsport 7. The gane features the upcoming high-performance 911 GT car. The game also features more than 700 ForzaVista cars to collect, race and customize and 30 racing environments with more than 200 ribbons. Plus, Forza Motorsport 7 offers more Porsche models than any racing game and a portfolio of car manufacturers, including every premium brand. And for the first time in Forza's history, players can personalize their appearance with a massive race gear collection that includes hundreds of options spanning decades of race history and pop culture.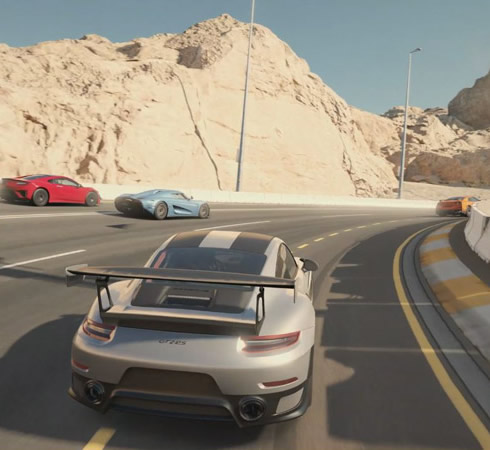 Forza Motorsport 7 arrives worldwide on October 3 exclusively on the Xbox One family of devices and Windows 10 PCs via Xbox Play Anywhere. Special editions include the Deluxe and Ultimate Editions, complete with digital-only bonus content, VIP membership, and access to the Day One Car Pack.
The Xbox One X features six teraflops of processing power - more than the four teraflops of Sony's PlayStation 4 Pro. The Xbox One X's processing power allows for a wider range of games to played in native 4K resolution, instead of via a variety of upscaling methods.
Powering the Xbox One X is an all-new AMD GPU, which features 40 "customised" Radeon compute units (compared to just 12 on the Xbox One and Xbox One S) clocked at 1172MHz. That's paired with 12GB of GDDR5 memory on a 384-bit bus for 326GB/s of memory bandwidth, which is again substantially higher than the 204GB/s of the Xbox One and the 218GB/s of the PS4 Pro.
The Xbox One X will also feature a 4K Blu-ray drive, like the Xbox One S, something that even the PlayStation 4 Pro doesn't support.
Microsoft is highlighting the use of water-cooling and a new power management system to keep temperatures down. So don't worry, your game console won't overheat due to a small chassis.
Parents will appreciate the backwards compatibility -- it can run all Xbox One games and works with all existing accessories too.
Minecraft is getting 4K graphics
Microsoft also announced that Minecraft is getting a new look this fall with a "Super Duper Graphics Pack" update that adds more realistic textures, light effects, and graphics to the popular block building game, including full 4K resolution on the Xbox One X console.
Also announced was the Better Together Update, which adds a new community marketplace for players to sell creations, new in-game servers to play together, and cross platform play between different platforms, including Xbox One, Windows 10, the Nintendo Switch, and a variety of mobile devices.
The 4K graphics is set to release this fall, with the rest of the Better Together features coming soon.