Arctic Cooling - Freezer 64
4. Conclusion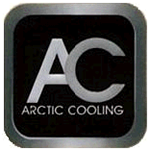 Throughout these pages we saw what constitutes a really good cooler, without having to be either big in size, or producing a significant levels of noise. Arctic cooler gave us the perfect solution for all users out there, who desire a silent and cool solution for their AMD based processors. As seen in the previous pages, the "F64" really made a difference from the stock AMD fansink, where in idle mode it had a nice 4°C drop from the stock cooler and a 6°C drop under full load. But the real thrill was when we overclocked our motherboard, where temperature values were similar to those of the AMD stock cooler under normal operating speeds for both idle and full load. The "F64" even managed to drop 1°C lower than the original bundled fansink. With those drops achieved, we managed to overclock our AMD 3500+ processor from 2200 MHz to 2600 MHz without any errors whatsoever, even with the Prime torture test which is known for causing errors with OC CPUs.
CPU coolers tend to produce significant noise levels trying to keep CPU temperatures down. This is due to the large RPMs of the the fans which in most cases goes over 3000 or even 4000 RPM. While most coolers are specially designed this way, this Arctic Cooler product is not. With an 80mm sized fan and 2200 RPM max, the "F64" gives the desired effect, which is a 100% silent cooler and a very good cooling solution.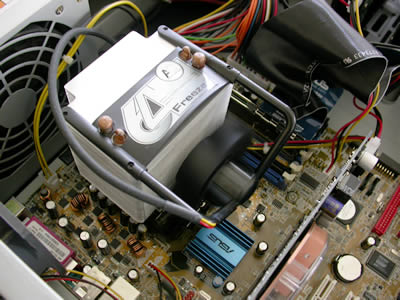 The F64 at work...
The installation of the Freezer 64 is accomplished if not in seconds, then in just a few minutes. In fact, as said earlier in this review, it took longer for us to detach the stock fansink than to install the Arctic cooler.
Concluding, what we have here is a low noise, easy to install, excellent cooler with an excellent price tag, which according to Arctic Cooling is at US$35 / €28. A very low price for what this cooler offers. So, thumbs up for Arctic Cooler and the Freezer 64 AMD CPU Cooler.
Pros:
-Extremely low noise
-Very good thermal reduction
-Easy to install
Cons:
-

| | |
| --- | --- |
| Performance: | |
| Features/Design: | |
| Installation: | |
| Value for money: | |