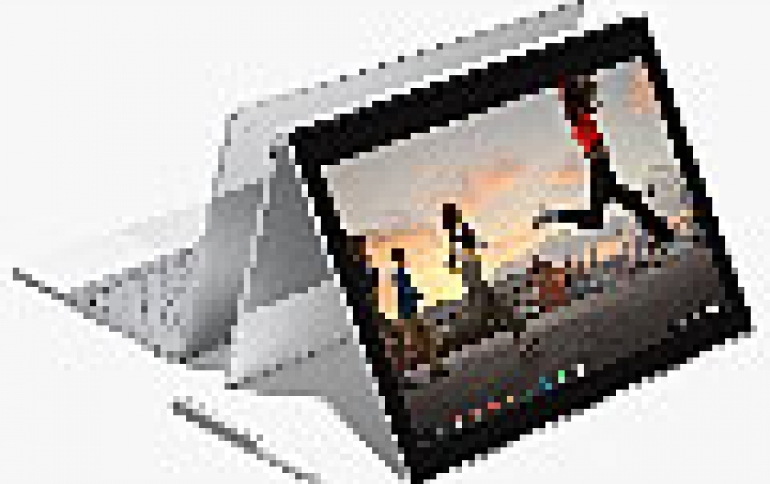 Google Unveils the High-performing Pixelbook
Google has announced the Google Pixelbook, a new high-performance Chromebook, which combines parts of a laptop, a tablet, and a smartphone.
Pixelbook is the thinnest, lightest laptop Google has ever made, at just 10.3mm and 1.1 kilograms. It has a 4-in-1 design: You can use it as a laptop, fold the keyboard underneath to watch your favorite show, read your favorite book or take notes in tablet mode when you're on the go, or prop it into tent mode as you follow along with a recipe in the kitchen.
It has a 12.3-inch high-resolution touchscreen display, a thin keyboard with soft-touch keys and a backlit design. The trackpad uses new, special touch-processing algorithms to make sure you can navigate with accuracy.
Pixelbook starts up in seconds and won't slow down over time. Chrome OS provides a secure computing experience, with multiple layers of security and automatic updates. Pixelbook uses Intel Core i5 and i7 processors and plenty of RAM. Google offers storage options of up to 512 GB, and Google Drive will sync your most recent Google Docs, Sheets and Slides to your device. Pixelbook's battery lasts up to 10 hours and if you run low on juice, 15 minutes of charging gets you up to two hours.
Alongside Pixelbook Google is introducing the Google Pixelbook Pen, a responsive stylus which gives you a comfortable feel when you are sketching and writing. Pixelbook Pen uses machine learning for handwriting recognition, and Google says it has reduced latency to just 10 milliseconds. It also has 60 degrees of angular awareness and 2,000 levels of pressure sensitivity.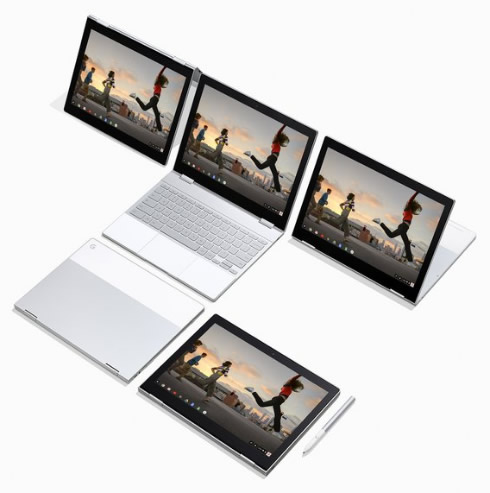 Pixelbook is the first laptop with the Google Assistant built in. Just say "Ok Google" or press the dedicated Assistant key, and you can talk or type to find answers or perform tasks. You can set a reminder, check your commute, look up a basketball score, open a new document, or find an email. Google Assistant also gives you hands-free access to your music and entertainment and allows you to control your smart home to turn up the thermostat or turn down the lights.
You can also use your Pixelbook Pen to get help or take action on what's on your screen-just press and hold the button on your Pixelbook Pen and circle an image or text. You can look up words, find out more about a picture, add an event to your calendar, and more.
It's not just the Assistant that makes the Pixelbook a helpful laptop. For example, when you don't have access to WiFi, Pixelbook can automatically connect to your Pixel phone's data. And you can ask your Google Assistant on Pixel to send an email to a colleague when you're out and about, and then ask it to find their reply on your Pixelbook when you get back to work.
Pixelbook is available in three configurations starting at $999 in the U.S. The Pixelbook Pen is $99. Both will be on sale at the Google Store and major retailers, including Best Buy, in the U.S., Canada and the U.K. Pre-orders start today.
Tech specs
Chrome OS

Display

12.3" 2400x1600 (235 ppi) Quad HD LCD display for sharper images
Touchscreen display with Google Pixelbook Pen support1
400 nits for using in bright areas
72% NTSC color

Audio

Dual speakers for better surround sound
4 mics for improved noise cancellation during video calls

Processor: Powered by a 7th Gen Intel Core i5 or i7 processor
Memory: 8GB or 16GB RAM
Storage: 128GB, 256GB, or 512GB (which also supports NVME) Solid State Drive
Dimensions
Length: 11.4 in (290.4 mm)
Width: 8.7 in (220.8 mm)
Height: 0.4 in (10.3 mm)
Aluminum unibody
Glass detail with Corning Gorilla Glass
Color: Silver

Battery

Use time of up to 10 hours
41 Whr battery
45W charger (5V/3A, 9V/3A, 15V/3A, 20V/2.25A)
Use time of up to 10 hours
Fast charging: up to 2 Hrs in 15 min., or 7.5 Hrs in 60 min
USB-C 45W adaptor that also works with Pixel phones

Wi-Fi: 802.11 a/b/g/n/ac, 2x2 (MIMO), dual-band (2.4 GHz, 5.0 GHz)
Bluetooth 4.2
Keyboard
Backlit keys for easier typing in low light
Full size with 19 mm pitch
0.8 mm travel
Google Assistant key
Trackpad
Edge-to-edge trackpad
Etched glass surface
Camera: 720p @ 60FPS Security
TPM Chip for better on-device security

Sensors

3-axis Gyroscope/Accelerometer
Magnetometer
Ambient Light Sensor
Hall Effect Sensor

Ports: Two USB-Cs for charging, 4K display output and quicker data transfer1