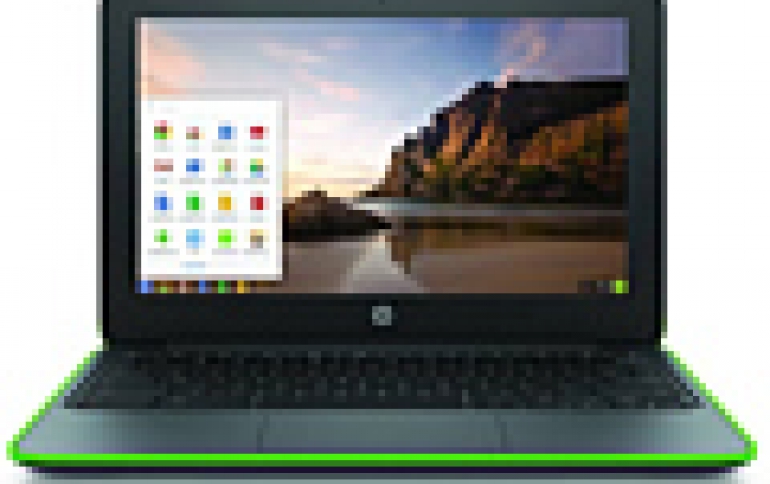 HP Unveils $199 Chromebook For Education
HP today announced the HP Chromebook 11 G4 Education Edition (EE) -- a lightweight Chromebook designed to meet the needs of students and educators. At 20 mm thin and just 2.7 pounds, the fanless HP Chromebook 11 G4 EE is possibly the thinnest rugged Chromebook for Education designed to pass MIL-STD testing. With rugged construction accents like co-molded rubber edges, the device passes HP's 70 cm drop.
The spill-resistant keyboard helps keep the Chromebook safe from water-related accidents and includes smart features like a 180-degree hinge that allows the Chromebook to lay flat, as well as an optional IPS panel that provides wide viewing angles. And for those Google Hangouts study groups, built-in noise suppression technology makes everything sound better.
Inside, students will find an Intel Celeron processor and up to 9.5 hours of battery life. HP is also offering optional 3G/4G WWAN connectivity.
The HP Chromebook 11 G4 EE is also easy to deploy and manage, thanks to the optional Chrome Management Console. Teachers and administrators can manage policies, apps and OS updates across a fleet of thousands of Chromebooks, all from a web-based admin console. In addition to device management, HP offers configurable color options (black and electric green) so administrators can identify and distribute the HP Chromebook 11 G4 EE by grade, class or charging cart.
The HP Chromebook 11 G4 EE is expected to be available in the United States in January 2016 starting at $199.