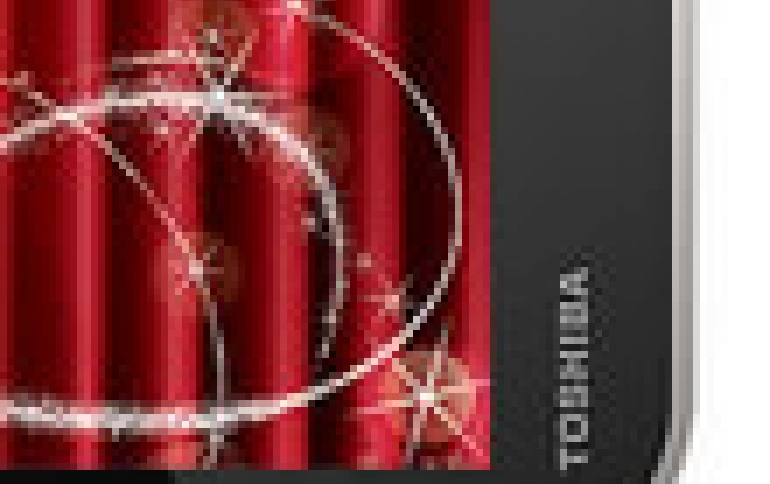 IFA: Toshiba Introduces Satellite Click, Encore Tablet
Toshiba today announced the Satellite Click, an all-new detachable consumer PC and the the Encore - an 8" Windows 8.1. tablet. Perhaps the most exciting new device from Toshiba, the Encore tablet has an 8" 1280x800 HFFS display with 5-point multi-touch support with Windows 8.1.
Encased in a silver textured backplate, Encore is both slim and lightweight, measuring 0.42 inches (10.68mm) and weighing just 16.9 ounces (479g).
Encore is powered by the Intel Atom processor. It also includes the connected standby capabilities of InstantGo, enabling the device to receive updates while sleeping so content is always up to date when use is resumed. In addition, Encore includes an 8-megapixel camera, a full suite of sensors, including a gyroscope, accelerometer and GPS, as well as stereo speakers.
Encore is optimized for Skype, making high-quality video chatting and calling possible. Utilizing on-board dual microphones with beam forming technology and integrated 2-megapixel front camera - users can chat with clarity with friends.
Completely compatible with both Windows 8 apps and Windows 7 programs, Encore offers integration and content sharing with other Windows devices, giving the device an edge for multi-device home users looking to stream and share content from room to room.
Ready to go right out of the box, Encore will feature Xbox Movies, Music and Games entertainment services, Amazon's Kindle e-reading app, as well as the Xbox SmartGlass app which turns the tablet into a secondary screen for the Xbox 360 and Xbox One game consoles. Also included is a full version of Office Home & Student 2013 for viewing and creation of Word, Excel and PowerPoint documents.
Encore includes 32GB of storage4 and is equipped with essential ports including a Micro USB 2.0 port, Micro HDMI port and a microSD slot for up to 32GB more storage. Dual-band 802.11 a/b/g/n Wi-Fi enables easy wireless media streaming.
The Toshiba Encore tablet will be available for purchase in November for $329.99 MSRP.
The second device showcased at IFA today is the Satellite Click. Designed with a removable 13.3-inch diagonal touchscreen tablet that locks and unlocks from the hinge, Satellite Click offers a transition between laptop and tablet modes. The Satellite Click is available exclusively via Best Buy and Toshiba Direct for the Holiday 2013 buying season.
The first detachable device to utilize AMD's low-power A4 accelerated processing unit (APU), codenamed "Temash," with AMD Radeon 8000 graphics and 4GB of 1600MHz DDR3L RAM4, the Satellite Click delivers fast dual-core performance while maintaining a generous battery life rating. A 500GB hard drive is built-in to the removable screen. Tablet essentials, including a built-in webcam, Micro USB 2.0 and HDMI ports, a microSD slot, plus accelerometer and gyroscope sensors, enable the device's transformation from laptop to tablet without compromise.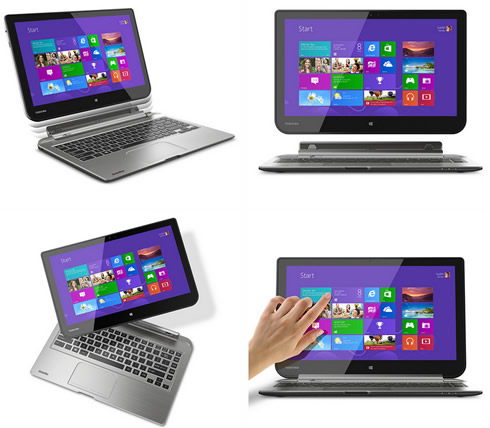 The device features a hinge design that allows the screen to be removed completely or tilted up to 125 degrees when in laptop mode. A dual-battery set-up supports DC-in on both the keyboard base and on the screen, giving the user the flexibility to charge while docked or undocked, while a smart approach to charging prioritizes the removable screen to receive a charge first.
The keyboard base consists of a full-size keyboard and touchpad along with a USB 3.0 port with Toshiba's USB Sleep & Charge technology . The device is enclosed in a silver casing with a sleek fanless design.
Toshiba also today announced a new value-driven laptop, the Satellite NB15t, available at a starting price of $379.99 MSRP.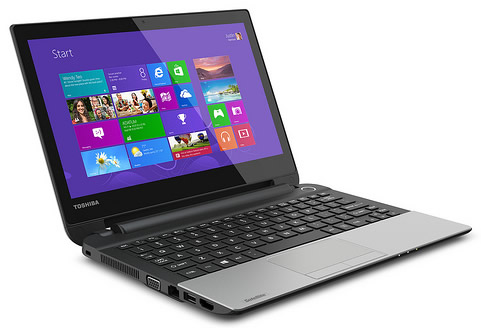 Featuring an 11.6-inch diagonal HD TruBrite touch-enabled display, the Satellite NB15t is optimized for Windows 8. It is powered by the latest generation Intel Celeron processor, it has a 500GB hard drive, 802.11 b/g/n Wi-Fi, Ethernet, USB 3.05 and HDMI ports as well as an HD webcam. On-board stereo speakers enhanced with DTS audio. The Satellite NB15t stands slimly at under an inch and weighs just 3.3 pounds.