Intel Previews New Chromebooks, 'Education' Reference Design
Intel and major PC vendors plans to release up to release at least 20 Chromebooks powered by Haswell and Bay Trail chips by the end of the year. Unveiled during a press conference on Tuesday morning, the processor giant also boasted that it will be involved in releasing the first to feature 64-bit Chrome OS.
Acer, Asus, Lenovo, and Toshiba are focusing on the consumer demographic with the first Chromebooks running on Intel Celeron processors based on the Bay Trail-M system-on-chip platform.
"Intel has grown to become the No. 1 microprocessor in Chrome systems," said Navin Shenoy, vice president and general manager of Intel Mobile Client Platforms Group. "We've been working on five generations of Chrome and after Google, Intel is the largest contributor to the Chromium OS. Intel chips are the first and only to support 64-bit Chrome OS. This deep history and investment combined with our stellar Bay Trail and Haswell SoCs mean Intel can offer the best performing devices at every price point in the Chrome category. When people are shopping for Chrome devices, they should look for Intel Inside."
These fanless machines being that the Bay Trail-M SoC have thin designs (
Acer and Dell will alo go higher-end with their versions by embedding the fourth-generation Intel Core i3 processor.
Intel says that the new powerful Chromebooks will be able to easily load rich web apps up to four times faster faster as well as boost performance for Google Hangouts with multiple parties, making it more acceptable for video conferencing while on-the-go.
Lenovo
announced earlier today
its first consumer Chromebooks, the N20 Chromebook and N20p Chromebook.
Intel didn't provide exact ship dates for every model introduced on Tuesday, but the Asus 11.6-inch C200 and 13.3-inch C300 will be ready for back-to-school season when they ship this summer. The i3-based Acer C720 Chromebook will also become available "early" in the back-to-school shopping season priced at $350.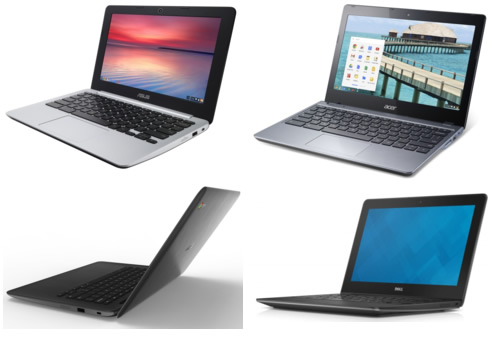 While also touting many of these lightweight PCs as ideal for students, Intel is further honing its education strategy.
Caesar Sengupta, vice president of Chrome OS product management at Google, cited that Chromebooks have already been deployed at more than 10,000 schools to date.
Intel also offered a glimpse at its "Education Chromebook" reference design. The company did not provide details about it, noting that the technology inside was previously available on Windows and now it is coming to the Chrome OS. Intel customers will be able customize the reference design to reduce development time while acessing the latest technologies, education-specific features and software, all of which benefit student learning.
Stepping away from Chromebooks, Google, Samsung and HP will release their respective Chromebox devices.
Based on Intel Celeron and Haswell architectures, the tech giant affirmed that the HP Chromebox will essentially be able to turn any screen into a Google Chrome-based PC.
LG will be
also releasing
its 21-inch Chromebase all-in-one PC later this month for $349.99.
Earlier this year, Intel announced that it was manufacturing the first commercially available microprocessors with materials that come from smelters that have been validated as DRC conflict-free. The new Intel Chrome devices are all powered by Intel's conflict-free microprocessors.