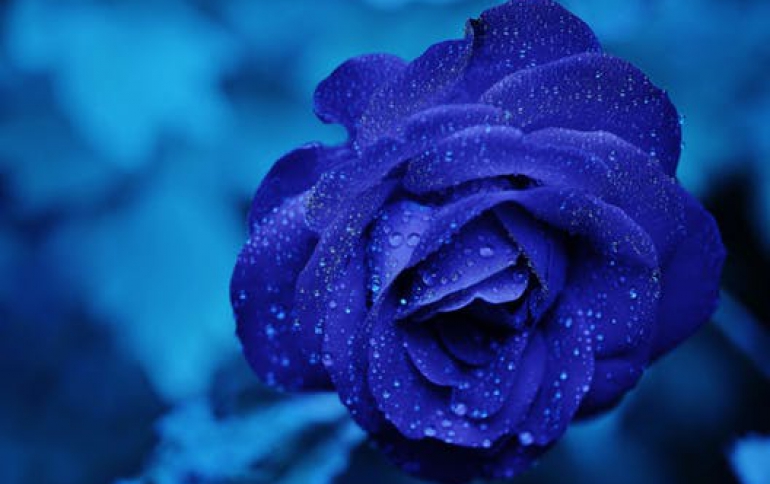 LaCie Announces Fastest Desktop Storage Solutions And Thunderbolt 3 Portfolio
Today, LaCie, the brand from Seagate Technology plc , announced its Thunderbolt 3 portfolio of storage solutions designed for video professionals. First, the LaCie Bolt3 combines Thunderbolt 3 speed with the latest M.2 PCIe SSDs to create an ultra fast desktop drive. In addition, the LaCie 12big Thunderbolt 3 and 6big Thunderbolt 3 are ready to handle massive amounts of content thanks to fast transfer speeds, RAID 5/6 security and enterprise-class drives.
For the Bolt3, LaCie harnessed the performance potential of Thunderbolt 3 and paired it with two M.2 PCIe SSDs striped into a 2TB volume. Bolt3 delivers record speeds of up to 2800MB/s. What's more, videographers can transfer a terabyte of 4K ProRes 4444 XQ footage from the LaCie Bolt3 to RAID storage-such as the LaCie 12big Thunderbolt 3-in only 5 minutes and 11 seconds.
The LaCie Bolt3 is engineered for long term reliability—from the enclosure to the internal components—to endure intensive storage tasks. Each product is individually Computer Numerical Control machined from aluminum blocks for durability and heat dissipation. Effective cooling helps to ensure long-term component health.
With up to 120TB of capacity, the performance of Thunderbolt 3 and RAID 5/6, the LaCie 12big, first shown at the 2016 National Association of Broadcasters Show, and the new LaCie 6big help video professionals meet the data demands of 4/5/6K cameras. Both feature Seagate enterprise-class drives with 256MB cache and 7200RPM.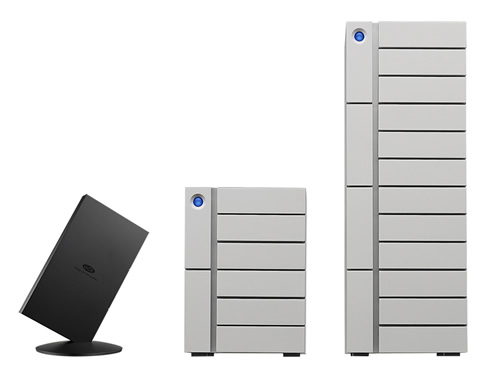 Thunderbolt 3 speeds of up to 2600MB/s for LaCie 12big and 1400MB/s for LaCie 6big slash time off nearly every post-production workflow task. Plus, with up to 120TB of capacity, the LaCie 12big can store 100 hours of 4K ProRes 4444 XQ footage in RAID 5.
With double the video bandwidth of its predecessor, Thunderbolt 3 lets a user daisy chain dual 4K displays or a single 5K display to the LaCie 12big or LaCie 6big. With two 4K displays, users can spread out their workspace by dedicating one display to the timeline and the other to previewing 4K footage, for example. It's even possible to power a compatible laptop through the USB-C cable. Additionally, the user can connect to USB 3.0 computers via the included USB-C to USB-A cable.
Front-accessible drives offer convenient drive replacement and front-facing drive status LEDs help the user keep track of drive health and RAID build status. Two thermoregulated fans pull heat away from internal components. Both the LaCie 12big and LaCie 6big are protected by a five-year limited warranty that covers drives, enclosure and spare parts.
LaCie has also partnered with Pelican Products to offer custom cases to safely transport the LaCie 12big or 6big to and from set. The Pelican Storm Case is an injection-molded case made of HPX resin that is virtually unbreakable and resistant to dents and shatter.
The LaCie Bolt3 will come in a 2TB SSD capacity for $1999.00. The LaCie 6big will come in 24TB, 36TB, 48TB and 60TB capacities starting at $3199.00. The LaCie 12big will come in 48TB, 72TB, 96TB and 120TB capacities starting at $6399.00. The custom Pelican Storm cases start at $349.00. All LaCie Thunderbolt 3 solutions and the custom Pelican Storm cases will be available at LaCie resellers this quarter.