LG Optimus G Pro Released In Japan
LG Electronics said Thursday it plans to roll out the Optimus G Pro in Japan this week. The Korean company will release the full HD smartphone via Japan's largest mobile operator NTT DoCoMo, roughly two months after the Optimus G Pro hit shelves in S. Korea.
Sales of the 5.5-inch Optimus G Pro broke the 500,000 mark in the first 40 days following its launch, becoming LG Electronics' fastest-selling smartphone.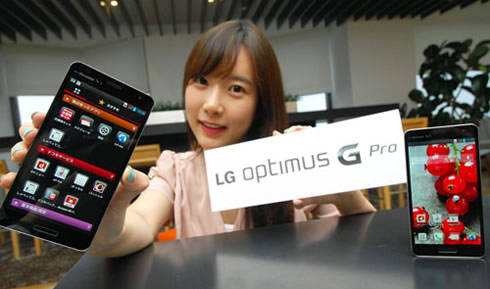 The Japanese version carries a smaller 5-inch full HD display (440ppi) and features localized functions such as electronic money card system FeLiCa, according to LG Electronics. It will also feature 13MP/2.1MP cameras, 32GB ROM, 2GB RAM and will be powered by an APQ8064 (1.7 GHz) processor.
LG said the company has not yest decided on whether to introduce the smaller screen size for other overseas markets.
The company had previously said it planned to release the Optimus G Pro in Japan and North America in the second quarter of this year.