Microsoft Demonstrates Windows-based Devices at Computex 2014
Wednesday during a keynote address at Computex, Nick Parker, Microsoft corporate vice president responsible for Microsoft's device partnerships, unveiled nearly 40 new Windows and Windows Phone devices and hinted at a new partnership with HTC.
Parker hinted that HTC is preparing to return to Windows Phone. He said that Microsoft is working with Taiwanese smartphone maker on a new Windows project, but declined to give any details.
"I'd love to break some news here if I could," said Parker, responding to a question about device partners. "But instead I'll just say that Microsoft will continue to have a great relationship with HTC. New things are coming, so get excited."
The smartphone is expected to be the rumored W8 device, cming on Verizon soon. A few days ago @evleaks revealed HTC is preparing to launch a W8 Windows Phone 8.1 device on Verizon in Q3. It's claimed that the W8 is a mid-range handset that could take advantage of Windows Phone 8.1's new on-screen button support.
HTC has not launched any Windows smartphones since June 2013, when it released the 4.3-inch HTC 8XT running on the Windows Phone 8 platform.
At the same event, Parker was joined during his keynote by Tony Prophet, who talked about how recent Windows enhancements including $0 Windows for devices smaller than 9 inches, relaxed certification requirements, the release of Windows 8.1 Update, Windows Phone 8.1 and Windows universal apps all make building Windows devices easier for a broader ecosystems of hardware partners. He talked about the value of Microsoft cloud services across devices and shared the latest momentum:
2 billion Skype minutes per day
4.4 million Office 365 Home subscribers
400 million active Outlook.com users
250 million OneDrive users
48 million Xbox Live members
18 percent share of U.S. search market for Bing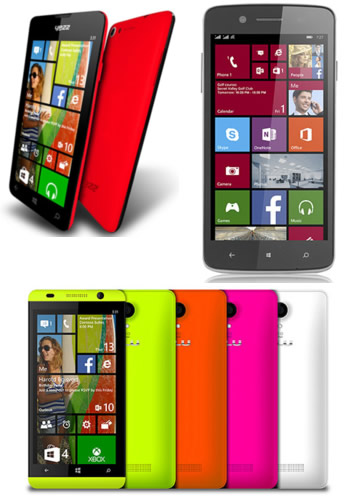 He also announced that Kabam, a leader in free-to-play games, will deliver its lineup of hit games to Windows tablets and phones over the next year, including "Fast & Furious 6: The Game," "Dragons of Atlantis: Heirs of the Dragon" and "The Hobbit: Kingdoms of Middle-earth." Moving forward, Kabam games will be available for Windows in the same timeframe as for other platforms.
Nick Hedderman, group manager in the Windows Product Management team, demonstrated the latest capabilities in Windows 8.1 Update and Windows Phone 8.1, showing improved mouse and keyboard navigation in Windows and enhanced notification, personalization and file management options in Windows Phone. He finished the demo with a look at Cortana, Microsoft's new personal assistant on Windows Phone, and spoke about its upcoming availability in both China and the U.K.
Parker had nearly 40 brand-new devices on stage, including all-in-ones, laptops, 2-in-1s, tablets and smartphones. He gave the first sneak peek of Toshiba's 7-inch tablet that will be available in the coming months at a value-driven price point and unveiled the HP Pro x2 612 2-in-1 that is packed with business-ready capabilities. He demonstrated numerous tablets from Microsoft's partners in the China technology ecosystem in Shenzhen, Beijing and Shanghai, including Haier, VIDO and Luckystar. Parker also showcased smartphones from BLU, InFocus Corp., Prestigio and Yezz.