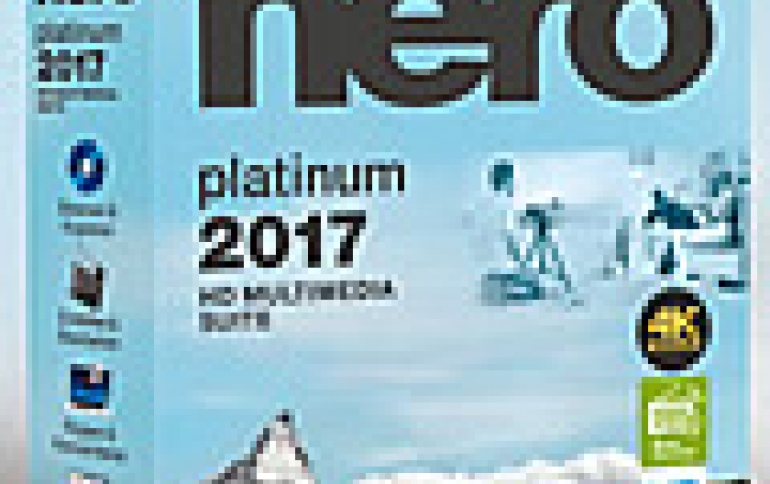 Nero 2017 Brings Support For More Formats, Functions And Security
Launching today is the latest version of Nero 2017, the polular multimedia software for burning, copying, creating, editing, ripping, converting, playing and streaming media content. This latest edition sees improvements such as ease of use, playback, video editing, transcoding and burning, as well as sharing videos, photos and music in the highest quality.
Users have thousands of photos, videos and other multimedia files stored on lots of different devices such as smartphones, tablet PCs, laptops and desktops. The Classic and Platinum versions of Nero 2017 allow users to search via timeline, faces, places and tags. While the Nero 2017 Classic multimedia suite includes extensive functions for mastering the day-to-day digital life, Nero 2017 Platinum delivers especially high-quality results thanks to the support for HEVC/H.265.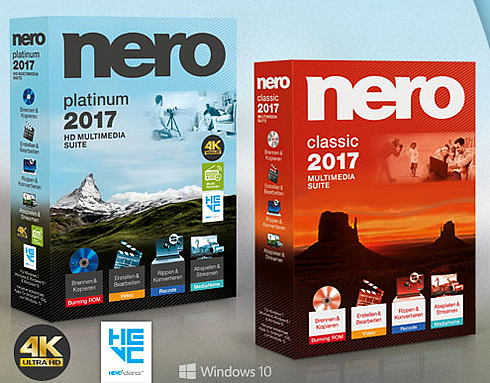 Nero 2017 Classic
Nero 2017 Classic features Nero QuickStart, which makes the ten most common tasks for photos, videos and music available immediately. Simply select the desired media content and add it to the appropriate project, or switch to playback in all popular formats. Support for Gracenote technology in the Nero MediaHome universal media center ensures that songs are always shown with the original album cover and can also be transferred to mobile devices. This means that users can play their favorite songs using the familiar album cover.
Another new feature is the ability to play back films with existing subtitles (SRT files). In addition, users can add and play back additional subtitles using drag & drop.
In the past users could expect to spend a long time exporting various highlight scenes from a long video film. They can now do this quickly and in one go with the new "Multi Export" function.
Nero's burning technology has also been further enhanced. Users wanting to add special security to their images, music, videos and data can now use the new SecurDisc 4.0 feature with password protection and 256-bit industry-standard encryption. This keeps sensitive data protected and the burned discs are particularly durable.
In addition, Nero 2017 Classic now comes with the latest in-device support for converting files to mobile devices and provides 1-click conversion of audio CDs to connected smartphones and tablet PCs as well as all Gracenote information in the file, including album cover, transferred to the mobile device. Gracenote functions are also available on disc when burning CDs and DVDs with MP3 or AAC files for a car radio.
Nero 2017 Platinum
If you need more, the Nero 2017 Platinum suite provides all the functions of Nero 2017 Classic and delivers high-quality results for playback, video editing and output thanks to its advanced functions.
Besides improved Ultra HD (4K) support for playback, video editing and output, the Platinum suite has been extended to include the H.265 High Efficiency Video Coding format, which delivers significant improvements to picture quality in HD and 4K while halving file size. HEVC is used in Nero 2017 Platinum for playback, video editing and transcoding.
Alongside over 300 additional effects, video filters and templates for video editing, Nero 2017 Platinum also brings enhancements in the area of 4K. For example, 42 4K-optimized templates can be used to create film or slideshows automatically and hundreds of 4K effects can be embedded as native into 4K projects and also output in full 4K quality. Tried and tested functions and effects like picture-in-picture, chroma-keying, slow motion, time lapse, tilt-shift and many more are all included in Nero 2017 Platinum.
For music fans, Nero 2017 Platinum continues to offer the Music Recorder. It enables users to record MP3s from radio stations free of charge.
New Free Apps
Nero 2017 is also offering numerous free apps.
The Nero KnowHow App was created as a simple interactive learning guide. It assists users with their multimedia projects, gives them answers to frequently asked questions (FAQs) with tips and tricks and offers direct access to more than 50 short video tutorials, contains application manuals, a glossary and more. In Windows 10 it can be accessed directly from the relevant application or from the start menu. It can also be used at any time on the move via smartphone or tablet PC (iOS, Android, Windows 10 Phone).
The Nero MediaHome WiFi Sync App has been optimised and now also made available for iOS. With it, users can transfer photos and videos from their mobile device to their PCs and send their favorite songs from their PC back to their mobile device wirelessly – in the highest quality.
The Nero Streaming Player App has also been enhanced, making it even simpler to stream images, video and music on smartphones and tablet PCs (iOS and Android) to a smart TV in the home network. This now means that zooming and rotating on a smartphone can be displayed on a smart TV in real time. And last but not least, the app also makes it possible to search the Nero MediaHome universal media center straight from a mobile device and to play photos, slide shows, music and music playlists from a PC on a smart TV.
The Nero Receiver App has also seen enhancements. In addition to Nero MediaHome, countless other UPnP/DLNA media servers can also be used to play media from a mobile device using the app. With the Nero Streaming Player App as a server and the Nero Receiver App as a receiver, media files can now also be streamed wirelessly from one mobile device to the other.
Private users can buy a single licensed copy of Nero 2017 Classic or Platinum Suite for MSRP € 79.99 and MSRP € 99.99 respectively online at www.nero.com or from retailers. Owners of a previous version of Nero can also upgrade at a special price. The familiar standalone solutions Nero Burning ROM (€ 49.99), Nero MediaHome (€ 19.99), Nero Recode (€ 39.99) and Nero Video (€ 49.99) have also been enhanced with the relevant functions and can be purchased online at www.nero.com.
Nero offers special volume licenses. These come in three versions: Nero 2017 Standard – Burning ROM, Nero 2017 Premium and Nero 2017 Platinum.
All the mobile apps can be downloaded for free from the relevant app store.