New Nero 2018 Adds More MultiMedia Functions
Launching today is the latest version of Nero 2018, the popular multimedia software for burning, copying, creating, editing, ripping, converting, playing and streaming media content.
New in Nero 2018:
Movies & TV Shows. Nero 2018 now has specialized organizing and playback views for movies and TV shows allowing easy the managment and playback of movies and TV shows. Movie posters plus other embedded movie information as well as the 'Play to TV' streaming functions and Nero Streaming Player App makes for a very streamlined experience.
Black Bars. Today's users have numerous photo and video aspect ratios to handle in their wide screen video or slideshow projects, be it 4:3, 3:2, 1:1, 9:16, and more. Nero's 1-click 'black bar remover' just puts an end to the problem of black bars on users wide screen TV sets. Anyone wishing to get even more from their multimedia files can rely on the Nero Platinum 2018 suite, which provides all the functions of Nero Standard 2018 and delivers high-quality results for playback, video editing and output.
Movie Themes. Alongside over 300 additional effects, video filters and templates for video editing, Nero Platinum 2018 comes with new design templates. With new movie themes such as family, events, travel, pets, action, and more users can auto-create movies in seconds. By dragging photos or videos into the template, users can now even better personalize their movies in a unique fashion. Moreover, a range of new video disc menus allow users to create Hollywood style playback menus for their DVDs and Blu-ray Discs.
Vertical Video. More and more users shoot video on their smartphone in vertical orientation but our TV sets are not made for viewing portrait. Now users can import, edit, and fine-tune their vertical footage in native portrait view and utilize the full power of multi-track editing, or just select one of the brand new vertical design video templates that help users create their vertical videos automatically. People now can create and share their fine-tuned vertical masterpieces with family and friends via social media channels, or simply send them back to their mobile devices wirelessly with Nero MediaHome WiFi sync, and carry them with them to show to family and friends.Nero DuplicateManager Photo in Nero 2018 Platinum helps to clean up users' image archives. It finds and removes duplicate photo folders and photos quickly and provides users a recommendation as to what is safe to delete.
Nero BackItUp. With the fully integrated Nero BackItUp users can do regular backups and easily restore their data. Now they can even access and restore backups created with former versions of Nero BackItUp, and make use of the free mobile App of Nero BackItUp to simply backup their mobile data including phone data and messages - even wirelessly.
Free Nero Mobile Apps extend the Nero Suite Experience 'Nero Streaming Player App', 'Nero MediaHome WiFi Sync App', 'Nero AirBurn App' are available for free in App Store and Google Play Store. In these stores plus Windows Store users can also get 'Nero KowHow App' - the Nero Learning Center. This app fully integrates into the Nero Suite on the PC when using Windows 10.
A comparison between the Nero Standard 2018 and Platinum 2018 versioons is shown below (click for large view):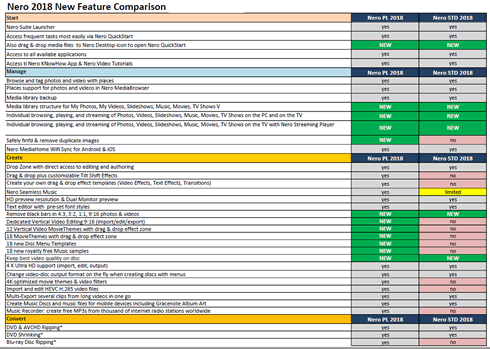 Private users can buy a single licensed copy of Nero Standard 2018 or Nero Platinum 2018 Suite for MSRP £69,95 and MSRP £89,95 respectively online at www.nero.com or from retailers. Owners of a previous version of Nero can also upgrade at a special price. The familiar standalone solutions Nero Burning ROM (£39,95), Nero MediaHome Unlimited (£29,95, Nero Recode (£29,95) and Nero Video (£39,95) have also been enhanced with the relevant functions and can be purchased online at www.nero.com.
Nero offers special volume licenses for companies, public agencies, educational institutions and non-profit organizations. These come in three versions: Nero Basic- Burning ROM 2018, Nero Premium 2018 and Nero Platinum 2018.