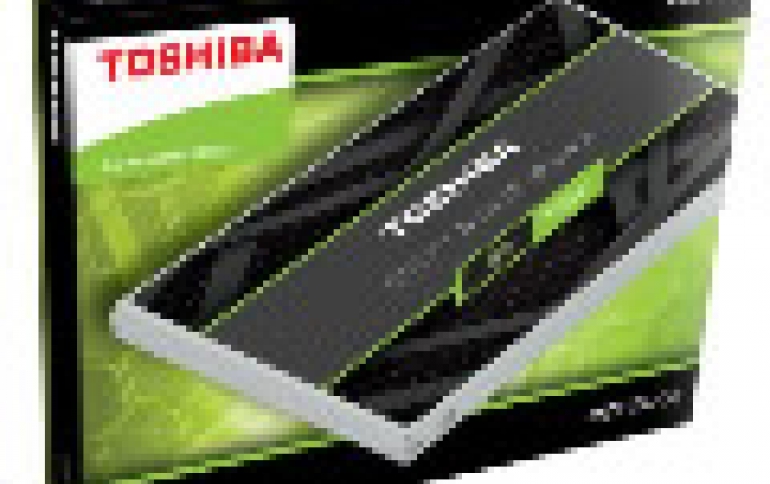 New Toshiba TR200 3D NAND SSDs Offer an Affordable Alternative to Hard Disks
Toshiba brings its BiCS 3D NAND to the retail SSD market with the introduction of the TR200 SATA SSD.
The TR200 is the successor to the Trion 100 and Trion 150 SSDs, the latter of which was renamed TR150 earlier this year. The Trion 100 was Toshiba's first retail TLC SSD.
The new SSD is based on Toshiba's 64-layer BiCS3 3D TLC NAND, and features a DRAMless SSD controller - Phison's S11. The S11 has a just two channels and is fabbed on a 40nm process. Its speed is limited by the SATA 6Gbps interface. The sequential read and write speeds are standard across the three 240GB, 480GB and 960GB avaialable capacities, and we have commonly seen 555MB/s and 540MB/s before. IOPS is where you'd expect an entry-level SSD to be.
The 240GB is capable of sustaining of 60TBW, or 250 full drive writes. This is why Toshiba is arming it with a three-year warranty.
There's no drive encryption, and Toshiba reckons active power is just 1.6W, or up to 60 per cent less than rival solutions.
TR200 will also be supported by the usual roster of utilities for OCZ drives. Toshiba has been phasing out the use of the OCZ brand, and the TR200 drops all use of the name from the drive itself, though OCZ is still mentioned on the box. The drive still has an OCZ logo, though the color scheme has switched from blue and white to green and black.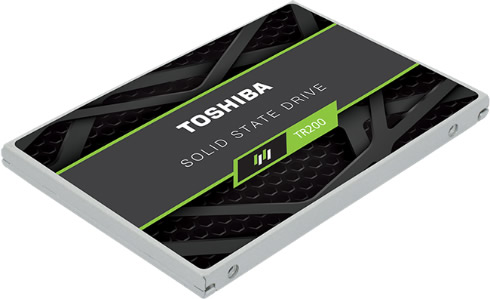 The MSRPs for the TR200 are much higher than what the Trion 150 was going for when it was new. The recommended retail is $89.99 for the 240GB, $149.99 for 480GB and $289.99 for 960GB. Pricing is consistent with the likes of Crucial's BX300.
Speaking of compatition, the Toshiba TR200 will be in close competition with drives using larger controllers with DRAM. The Crucial MX300 and ADATA SU800 are two examples, based on Micron's 32L 3D NAND and controllers from Marvell and Silicon Motion. Samsung's 850 EVO has long overshadowed a sizable chunk of the SATA SSD market with performance close to the limits of SATA, with very aggressive pricing.
Specifications
Performance
Sequential Read/Write

240GB, 480GB, 960GB: Up to 555/540 MB/s

Random Read/Write (4KiB, QD32)

240GB: Up to 79,000/87,0000 IOPS
480GB: Up to 82,000/88,0000 IOPS
960GB: Up to 81,000/88,0000 IOPS
Endurance
TBW (Total Bytes Written)
240GB: 60 TB
480GB: 120 TB
960GB: 240 TB

Daily Usage Guideline

240GB: 55 GB/day
480GB: 110 GB/day
960GB: 219 GB/day
Physical
Capacities: 240GB, 480GB, 960GB
NAND Flash Memory Type: 64-layer 3D BiCS TLC
Interface: Serial ATA (SATA) 6 Gbit/s
Form Factor: 2.5-inch, 7mm height
Dimension (L x W x H): 100.45 x 69.85 x 7.00 mm

Drive Weight:

240GB: 45.5g (typ.)
480GB: 45.6g (typ.)
960GB: 45.7g (typ.)
Power Requirements
Supply Voltage: 5V ±5 %

Power Consumption:

Active: Up to 1.7 W (typ.)
Idle: 100 mW (typ.)
DevSleep Power: 10 mW max
 Reliability / Security
MTTF: 1.5 Mhours

Product Health Monitoring: Self-Monitoring, Analysis and Reporting Technology (SMART) Support
Additional Features
Performance Optimization: TRIM, Idle Time Garbage Collection
Services and Support: 3-Year Standard Warranty
Software: SSD Utility (SSD management software)