Samsung Display, LG Display, Showcase Future Products At IMID 2015
South Korean giants LG Display and Samsung Display are showcasing their latest display technologies during IMID Display Exhibition 2015, an event that kicked off today in South Korea, organized by the Korea Display Industry Association.
Samsung Display also presents diverse OLED display applications including transparent and reflective OLED and circular flexible OLED panels as well as curved liquid crystal displays (LCD).
Samsung Display showcases a transparent, 55-inch OLED panels, which have the world's highest 45 percent light penetration rate, as substitutes for windows. It also showed a 55-inch mirror OLED panel which has a 75-percent penetration rate.
The company also highlights small and mid-sized OLED panels, for which it holds 94 percent market share worldwide, designed for wearable devices like smartwatches and mobile gadgets such as smartphones and tablet computers.
Samsung has on display its 5.9mm-thick curved TV, sized at 55 inches and capable fo displaying content at resolutions of 3840 x 2160 pixels, along with 27-inch (16: 9) and 34-inches (21: 9) 1800R curved monitors (radius 1800mm).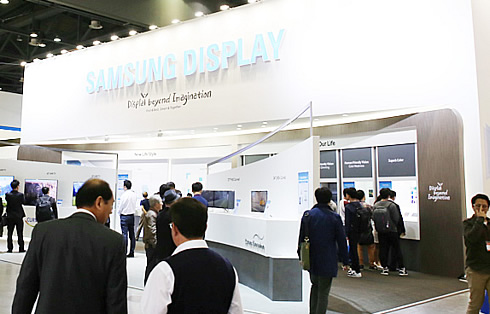 Samsung Display's various forms of wearable / OLED products for mobile devices include the 1.2-inch round flexible OLED display (360 x 360 pixels at 302PPI.) The specific display is mounted on the Samsung Gear S2 smartwatch and has a brightness of 600 cd / m2.
Samsung also showcases 5.7 inches and 9.7 inches OLED displays for smartphones and tablets, respectively. The 9.7-inches OLED supports aWQXGA (1440 × 2560) resolution and cover approximately 100% of the Adobe RGB color standard.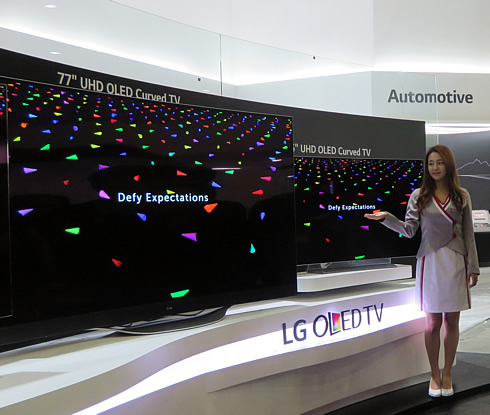 LG Display focuses on promoting its organic light-emitting diode (OLED) products that can be applied to diverse devices ranging from ultra high-definition (UHD) curved televisions to smartphones. The company has installed the automotive zone at its booth and exhibited a mock-up of an actual automobile dashboard to demonstrate cluster display and center information display products made of plastic OLED panels.
LG Display showcases its 77, 65 and 55 inches curved Ultra HD displays, and plastic OLEDs designed for smartwatches, smartphones automotive display products with sizes ranging from 1.3 to 12.3 inches.
The company will start mass production of Advanced In-Cell Touch (AIT) panels for notebook PCs, which will make the devices slimmer and lighter, in the second half of this year.
Full HD LCD panel in various sizes incorporating the 'In-Cell' touch function are coming later this year. The AIT is an in-cell touch technology that employs a touch sensor embedded within the LCD panel, replacing the 'add-on' type that places the touch panel on top of the LCD. The panels with the AIT technology have earlier been introduced for smartphones such as LG G4. The technology will be also applied to larger size devices such as notebook PCs.
AIT eliminates the space needed for a touch function cover glass, and as a result reduces the panel's thickness by 1 millimeter (approximately 25 percent) and its weight by 200 grams (approximately 35 percent) compared to a conventional 15.6-inch touch-embedded panel with Full HD resolution. It also offers a brighter and clearer screen picture since there is no light loss or light reflection caused by the cover glass. In addition it features an excellent touch response and precise calibration of the touch point even with water drops on the screen.
LG Display has already agreed to supply 15.6-inch and 14-inch panels to several global notebook PC brands. The company is also working on an AIT-based panel for pen touch functions.