Sharp to Launch Six New High-Definition LCD TVs
Sharp said on Thursday it would globally offer six new liquid crystal display (LCD) TVs toward the year-end shopping season, stoking white-hot competition further in the $45 billion LCD TV market. Sharp's announcement on the new Aquos brand flat televisions comes one day after Sony unveiled its latest LCD TV line-up for holiday shoppers.
Sharp, the world's third-largest LCD TV maker, plans to offer two types each of 52-inch, 46-inch and 42-inch sets that use panels from its latest plant in Kameyama, western Japan.
The factory, Sharp's second in Kameyama, is the world's first to cut panels from eighth-generation glass, able to yield eight 46-inch panels, compared with just three panels from the sixth-generation glass used at the first Kameyama plant, helping slash production costs.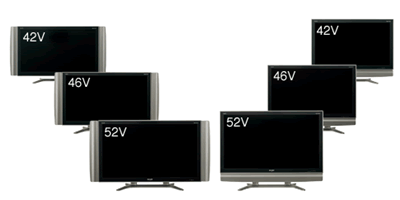 The newly developed Black Advanced Super View Full-Spec HD LCD Panel features a contrast ratio of 2000:1 and a full-motion video response rate of 4 msec for enhanced blacks and clear video reproduction. Sharp also claims that these new AQUOS models also feature the world's highest living room contrast of 650:1.
Further, the combination of a new 1-Bit Digital Amplifier developed specifically for the AQUOS capable of sampling rates up to 5.6 MHz, and the highly rated High Aperture Ratio Speaker System provides unrivalled audio quality that reproduces natural sound close to the quality of the original.
And, the large-screen 52V-inch models feature advanced environmental performance with power consumption at a low 322 W and an annual power consumption of 279 kWh/year, meeting the 2008 standards set forth in the Japan Energy Conservation Law.
These models also offer an advanced interface with the AQUOS Familink that enables viewers to comfortably use the push of a single button on the accessory remote control to operate the AQUOS HD Recorder and the AQUOS Surround sound system connected to the AQUOS TV via an HDMI cable.
Sony and Samsung, another Sharp rival, now use seventh-generation glass in their joint venture but plan to build a new eighth-generation line next year.
Underscoring a cost advantage for Sharp, the Osaka-based company said the 52-inch model, which comes with a full high-definition panel, is expected to sell for around 600,000 yen ($5,115).
In comparison, Sony said on Wednesday its 52-inch, full high-definition model is likely retail for 800,000 yen.
On the price difference, a Sony spokeswoman said its 52-inch model is loaded with cutting-edge technology such as advanced graphic chips, making it a value-added product.
Sharp, once the undisputed leader in the LCD TV market, lost its top spot late last year due to a shortage of panel supplies.
Now, the company has high hopes that the new Kameyama plant, which enables Sharp to offer larger-sized TVs at competitive prices, will help it boost its presence in overseas markets such as North America and Europe.
Behind Philips Electronics and Samsung, Sharp held an 11.8 percent share in the global LCD TV market in April-June in unit terms, according to DisplaySearch.