Stellar Data Recovery MAC Edition
2. Free Vs. Pro Version
After we saw the Stellar MAC FREE edition, we also evaluated the PRO version, what major differences you can expect if you buy the software? The paid PRO version costs $79.99 and the most major change is that you can recover unlimited data and in addition you can create a bootable recovery media. Evaluate the features offered by Free, Pro, Premium and Tech: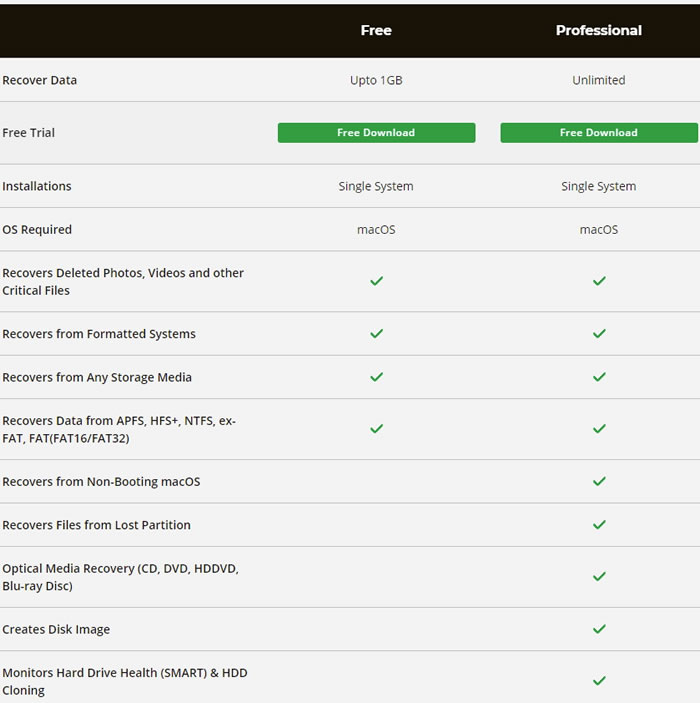 Stellar Data Recovery Professional for Mac Features:
Most features offered by the Free Edition are incorporated in Professional version; however below mentioned are the features that are developed for advanced data recovery. Hence, the name of the software is Professional:
Create Recovery Drive for Crashed Mac
What will you do if you are stuck on a Grey or White screen of death on your MacBook Pro/Air, iMac, Mac mini or other Mac device? The answer to this problem is Stellar Data Recovery Professional's Recovery Drive which offers to create a rescue media that boots your crashed Mac and retrieves inaccessible files. You require an 8 Gb of external USB drive and the activated version of the Professional version to create a recovery drive.
Monitoring Startup Disk Health
Stellar Drive Monitor application is embedded in the Professional version of the software. The disk monitoring app keeps track of storage device Temperature, Performance, and Health. It also shows SMART attributes of the hard disk to ascertain its overall health. Scan Disk module in the drive monitor utility scans & reports bad sectors in the hard disk to help assess the need for cloning to take data backup and allow secure recovery of data. Clone Disk feature creates replica of the affected drive for performing secure recovery.

In case you need mostly repair with recovered files, StellarDataRecovery offers the Premium/Technician version with even more advanced features: