Toshiba Delays Sale of 1st HD DVD Recorder
Toshiba said Thursday it will postpone the sale of the first recorder for HD DVD high-definition video discs because of a production delay. The new recorder, the RD-A1, had been slated to go on sale Friday, but the release will be pushed back to July 27, the Tokyo-based electronics maker said in a release.
The new machine combines an HD DVD burner with a one-terabyte hard disk and can record and store up to 130 hours of high-definition broadcasts. The device is also able to record on single and dula layer HD DVD-R media. For more information read CDRInfo's
previous report
.
The product is a key element of Toshiba's battle against rival Sony to establish the standard for next-generation DVD technology.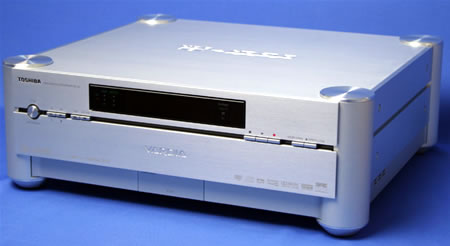 Toshiba launched HD DVD players in Japan in March, and in the United States in April. Sony plans to begin selling personal computers equipped with Blu-ray drives later this month.
Toshiba said last month the RD-A1 recorder will carry a suggested price tag of $3,470. The electronics maker hopes to sell 10,000 recorders by the end of 2006, company spokeswoman Junko Furuta said. It was unclear when the product will be launched overseas.
Sony has been selling Blu-ray recorders since 2003 in Japan, but prices have been high and consumer adoption limited.
RD-A1 is the first HD DVD recorder in the world. HDD and a digital tuner of 1TB are installed, and it corresponds to record/reproduction to one layer/two layers HD DVD-R and the reproduction of software on the market HD DVD-ROM. The price is 398,000 yen.