Toshiba Exceria M303 64GB and M501 Exceria Pro 64GB MicroSDXC review
1. Meet the Exceria M303 64GB and the EXCERIA PRO M501 64GB microSDXC
Today we ran some benchmarks with two flash-based storage solutions developed by Toshiba, designed to offer you storage space for your digital / video camera, but also for your smartphone - the Exceria M303 64GB microSDXC and the more high-end EXCERIA PRO M501 64GB. They are actually two flash storage solutions aimed 4K shooters, offering different performance levels, as you see below:
| Model | Capacity | Interface / Speed Class | Max. Write Speed | Max. Read Speed | Application Performance Class | 5 Years Warranty |
| --- | --- | --- | --- | --- | --- | --- |
| EXCERIA M303 | 64 GB / 128 GB / 256 GB | UHS / Speed Class 3, U3 (V30) | 65 MB/s | 98 MB/s | A1 | Yes |
| EXCERIA PRO M501 | 16 GB / 32 GB / 64 GB | UHS-II / Class 10, U3 | 250 MB/s (16 GB), 150 MB/s (32 GB, 64 GB) | 270 MB/s | No | Yes |
Starting with the Exceria M303 microSDXC line up, in addition to UHS Speed Class 3, it is equivalent to Video Speed C lass 30. The series comes in capacities up to 256 GB - perfect for 4K video recording in fast and tought situations as well as for capacity expansion for your smartphone. The EXCERIA M303 is also compatible with the latest SD Association's A1 Application Performance specification Version 5.1, with the expanding needs of utilizing microSD memory card, usually used as external storage device, as internal storage for mobile device such as smartphone. The "A1 classification" specifies at least 1,500 random read IOPS (Input-Output access Per Second), 500 random write IOPS and sustained sequential performance of 10MB/s.
The line up supports maximum read/write speeds of 98MB/s and 65MB/s respectively. In addition, rated with Video Speed Class 30 (V30), the M303 provides a minimum data transfer rate of 30 MB/s with a recommended UHS device under the conditions regulated by SD association.
The series is made for hard conditions: waterproof, shockproof, X-Ray proof and temperature proof. The SD adapter included with the M303 Package gives you a wide variety of use options.
The M303 is utilising Toshiba Memory Corporation's 3D Flash memory technology (BiCS FLASH). Operating at a temperature range of -25˚C to +85˚C, the M303 is shockproof, X-ray proof, and waterproof. The M303 cards come with a five-year warranty.
Toshiba EXCERIA M303 microSDXC
Capacity
64 GB / 128 GB / 256 GB
Interface
microSDXC, UHS-I
UHS Speed Class
UHS Speed Class 3,
Video Speed Class 30 (V30),
SD Speed Class 10
Max read speed (MB/s)
98 MB/s
Max write speed (MB/s)
65 MB/s
Application Performance
Class
A1
Dimensions
15.0mm (L) x 11.0mm (W) x
1.0mm (H)
Weight
Approx. 0.3g
Operating Temperature
-25°C to +85°C
Storage Temperature
-40°C to +85°C
Warranty
5 years
Below the see the plastic packaging of the M303 64GB 64GB microSDXC, with the ADP-HS02 adapter included: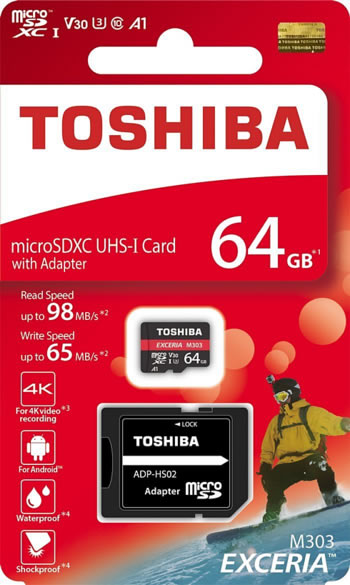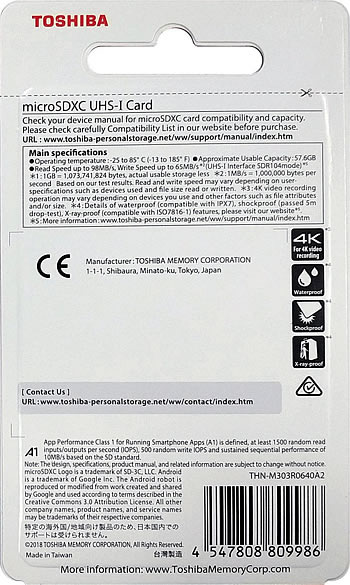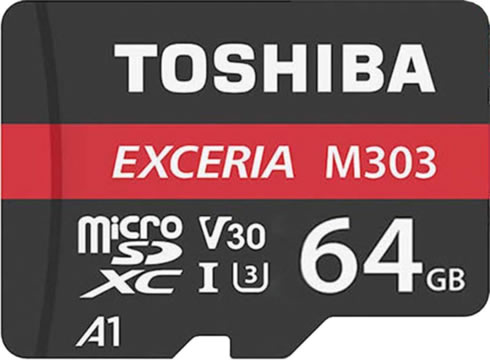 The second Toshiba product we are presenting here is the EXCERIA PRO M501 64GB microSDXC. This card is significantly faster that the Exceria M303, allowing you to shoot in 4K or Full HD with your DSLR camera, mobile phone or sports camera. The series offers up to 64 GB and is built specifically for video recording and rapid photography capture.
Thanks to the included SD card adaptor, it can be used in a wide variety of devices.
The microSD card series supports UHS speed class U3. It offers read speeds of up to 270 MB/s and write speeds of up to 250 MB/s (16GB) and 150 MB/s (32GB, 64GB).
As in the case of the EXERIA EXCERIA M303 SD Card, the Exceria Pro M501 microSD is x-ray proof, water proof and shock proof.
Here are the specifications:
Toshiba Exceria Pro M501 microSDXC 64GB
Capacity
16 GB / 32 GB / 64 GB
Storage memory
Toshiba NAND Flash
Interface
SDHC/SDXC, UHS-II
UHS Speed Class
Speed Class 3 (U3)
Max read speed (MB/s)
270 MB/s
Max write speed (MB/s)
250 MB/s (16GB),
150 MB/s (32GB, 64GB)
Dimensions
15 mm (L) x 11 mm (W) x 1.0
mm (H)
Weight
Approx. 0.4 g
Adaptor
SD card adaptor
Warranty
5 years
Software & Services
LC Tech recovery software
Below the see the packaging of the Exceria Pro M501 microSDXC 64GB. Besides the MicroSDXC card and the adapter, the package also includes a small leaflet with a code which activates the LC Technology Data Recovery Software.