1. Features
Shuttle has recently added the SZ270R8 model in its XPC series of miniPC chassis. Based on the Intel Z270 chipset, this product promises to offer high performance and expansion flexibility, at a compelling price. The stylish aluminum chassis is three times smaller than tower PC but as a result of a new internal design, it can support large-format dual-slot graphics cards, installation of up to four 3.5" hard disck drives and supports the Intel Rapid Storage Technology (Intel RST) for those looking at RAID configurations (RAID 0/1/5/10).
Equipped with Intel Z270 chipset, this new XPC cube is designed to drive Intel Kabylake LGA 1151 processors - it supports both Intel 6th Gen (Skylake) and Intel 7th Gen (Kabylake) Core i3/i5/i7, Pentium, and Celeron 95W processors. With Intel HD graphics, the SZ270R8 is able to support 4K/Ultra HD video playback and up to three independent screens and dual-screen displays via HDMI or DisplayPort interfaces.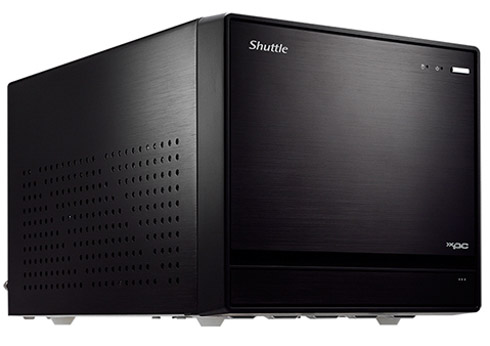 The SZ270R8 provides one PCI-E x16 slot (Support Dual Slot VGA card). It's built-in Dual Gigabit LAN supports Wake on LAN and Teaming Mode; comes with two M.2 2280 and one M.2 2230 slots, 10 USB3.0 ports, as well as an optional RS232.
Shuttle's I.C.E.2 heat pipe technology and an 80 Plus Silver 500W power supply ensure stability and and energy-efficiency for long-term operation. Shuttle's recommended retail price for the XPC Barebone SZ270R8 is around 325-350 Euros (ex VAT).
- Features/Specifications
Chassis
Black aluminium chassis
Front panel: brushed aluminium
Front doors for USB ports
Kensington Security Slot at the back panel (also called K-Slot
or Kensington lock) as a part of an anti-theft system
Dimensions: 34.84 x 21.54 x 19.02 cm (LWH), rubber feet: 7 mm
Weight: 3.5 kg net / 5.0 kg gross
Storage bays
Storage bays: 4x 3.5" (internal)
Using the optional accessory PHD3 two 2.5" drives
can be installed into one 3.5" bay.
Mainboard / Chipset
Shuttle Mainboard "FZ270", Shuttle Form Factor
proprietary design for XPC cube Barebone SZ270R8
Dimensions: 270 x 195 mm
Chipset: Intel Z270 Chipset, code name "Union Point"
Platform Controller Hub (PCH) as Single-Chip-Solution
Solid Capacitors for sensitive areas provide excellent
heat resistance for enhanced system durability
BIOS
AMI BIOS, SPI Interface, 32 MBit Flash-ROM with SPI interface
Supports PnP, ACPI 3.0, Hardware Monitoring
Supports Unified Extensible Firmware Interface (UEFI)
Supports boot-up from external USB flash memory
Power supply
Built-in 500 Watt mini switching power supply (PC63J)
AC input voltage: supports 100~240 V, 50~60 Hz
80 PLUS Silver [9] compliant: the PSU provides at least
85/89/85% of efficiency at 20/50/100% of load.
Active PFC circuit (Power Factor Correction)
ATX main power connectors: 2x10 and 2x2 pins
Graphics power connector: 6 pins and 8 pins
Other connectors: 4x SATA, 2x Molex, 1x Floppy
Operation System
This system comes without operating system.
It is compatible with Windows 7 / 10 and Linux (64-bit).
Note: Windows 7 is only supported in combination with 6th generation Intel Core processors "Skylake".

Processor support
Socket LGA 1151 (H4) supports
Intel Core i7 / i5 / i3, Pentium and Celeron processors
- 6th generation, code name "Skylake"
- 7th generation, code name "Kaby Lake"
Maximum supported processor power consumption (TDP) = 95W
14nm process technology, up to 8 MB of L3 cache
Not compatible with Intel Xeon E3 V5 processors for socket LGA 1151 and processors with the older Socket LGA 1150.
Supports the unlock-function of Intel K-Series processors.
The processor integrates PCI-Express, memory controller
and the graphics engine on the same die (performance features
depending on processor type)
Please refer to the support list for detailed processor support information at global.shuttle.com.
Processor cooling
Shuttle I.C.E. (Integrated Cooling Engine)
Advanced I.C.E. Heatpipe technology with 3 pipes
Temperature controlled 92 mm fan
SilentX cooling and noise reduction technology with Active Airflow
Memory support
4 x 288-pin slot
Supports DDR4-2133/2400 memory (PC4-17066/19200) at 1.2V
Supports 2+2 Dual Channel mode
Supports max. 16 GB per DIMM, maximum total size of 64 GB
Integrated Graphics
The features of the integrated Intel HD graphics function
depend on the processor type used.
Supports DirectX 12, OGL 5.x, OCL 2.x
The PC features three digital video outputs:
- HDMI v1.4b (supports 1080p/60 and 2160p/30)
- 2x DisplayPort v1.2 (support 1080p/60 and 2160p/60)
Supports displays with 4K Ultra HD resolution at 3840 x 2160 [3]
Supports three independent FullHD displays with the integrated graphics function
Supports more displays in combination with a discrete graphics card [2]
Supports Blu-ray (BD) playback with HDCP copy protection
Supports multi-channel digital audio over the same cable
Maximum shared memory of 512 MB
PCIe Expansion Slots
1x PCI-Express x16 v3.0 slot (PEG, for graphics cards only)
1x PCI-Express x4 v3.0 slot
This XPC supports dual-slot (double-width) graphics cards -
in this case the second PCI-Express slot will be occupied.
The length of the graphics cards can be up to 280 mm
or 273 mm, if the power connectors are on the back side.
Graphics power connectors: 6-pin and 8-pin
Two M.2-2280 SSD slots
The mainboard provides two M.2 2280 slots with the following interfaces:
- PCI-Express Gen. 3.0 X4 (max. 32 Gbps), supports NVMe
- SATA v3.0 (max. 6 Gbps)
It supports M.2 cards with a width of 22 mm
and a length of 42, 60 or 80 mm (type 2242, 2260, 2280).
Supports M.2 SSDs with SATA or PCI-Express interface.
Intel Optane Ready
The SZ270R8 supports the Intel Optane Technology
which accelerates the speed of one hard disk through data caching.
This requires a 7th gen. Intel Core processor ("Kaby Lake")
and an Optane-SSD with 3D-Xpoint memory (e.g. in M.2 format).
M.2-2230 slot for WLAN cards
Interfaces: PCI-Express Gen. 2.0 X1 and USB 2.0
Supports M.2 cards with a width of 22 mm and a length of 30 mm (type 2230)
Supports WLAN extension cards (optional Shuttle accessory WLN-M [6])
Multi-Channel HD audio
High Definition Audio with Realtek ALC662 codec
Back panel: three analog audio connectors (3.5 mm):
Line-in (blue), line-out (green) and microphone input (pink)
shared with 5.1 channel line-out (front, rear, center/bass)
Front panel: microphone input and headphones output
7.1 channel Digital Audio: via HDMI and DisplayPort outputs
Dual Gigabit Network
Dual network with two RJ45 ports
2x Intel i211 Ethernet Controller with MAC, PHY and PCIe interface
Supports 10 / 100 / 1.000 MBit/s operation
Supports WAKE ON LAN (WOL)
Supports network boot by Preboot eXecution Environment (PXE)
Supports Teaming mode
SATA connectors
The mainboard provides five Serial-ATA 3.0 interfaces, max. 6 Gbps supported
4x Serial ATA connector onboard
Supports Intel Rapid Storage Technology (RST, Raid 0/1/5/10, JBOD)
Other Onboard Connectors
2x USB 2.0 (2x 5-pin)
1x RS232 (2x 5-pin) for optional accessory H-RS232
2x fan connectors (4 pin), both connectors are occupied
Occupied front connectors: USB 3.0, USB2.0, audio, power buttons, LEDs