Toshiba Launches Canvio Connect Portable Hard Drive
Toshiba today announced Canvio Connect, a portable external hard drive that offers high capacity storage along with the ability to access and share files directly from the device. Toshiba's Canvio Connect is a portable external hard drive that offers up to 2TB of storage in a new slim and compact form factor and is available in several different colors. What sets the Canvio Connect apart from competitive storage offerings currently on the market is its ability to access and share files anytime, anywhere. For the first time ever, a product within Toshiba's portable hard drive lineup will allow users to back up videos and photos directly from smartphones, tablets and other mobile devices that are equipped with Toshiba Storage's iOS or Android app to the external hard drive.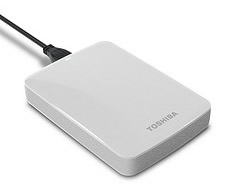 As long as Toshiba's Canvio Connect is connected to an Internet-enabled PC that is powered on, users will have complete access to their files, photos, music and movies from any device - no matter where they are. The Canvio Connect also allows users to share large files and folders instantly. As an additional bonus, the Canvio Connect includes 10GB of free cloud storage for storing "always available" copies of important files.
Toshiba's Canvio Connect is pre-formatted NTFS for Windows PC and comes with a NTFS driver for Mac, allowing users to store and access files from their PC and Mac without reformatting. The device also includes two year limited warranty.
The Canvio Connect will be available for purchase on ToshibaDirect.com and select retailers in mid-May. Pricing for the external hard drive will be $99 for 500GB, $109.99 for 750GB, $129.99 for 1TB, $169.99 for 1.5TB and $189.99 for 2TB.