Toshiba Unveils Single Package NVMe Client SSD Utilizing 64-Layer, 3D Flash Memory
Toshiba Memory Corporation today announced the launch of the BG3 series, a new line-up of single package NVM Express (NVMe) client SSDs integrating Toshiba Memory Corporation's 64-layer, 3-bit-per-cell (TLC) BiCS FLASH and controller in a ball grid array (BGA) package.
The company has started sample sample shipments to its PC OEM customers today in "limited quantities," and will gradually increase shipments from the fourth calendar quarter of this year.
The new BG3 series SSDs utilizes the features of PCI EXPRESS (PCIe) Gen3 x 2lanes and NVMe Revision 1.2.1 architecture. They are also equipped with a Host Memory Buffer (HMB) feature, which uses the host memory to substitute for DRAMs, saving power and space, and supporting developers of compact devices who must achieve a balance between high performance and low power consumption. Also, the combined benefits of SLC cache features, improved flash management and flash memory performance add up to deliver performance of up to 1520MB/s sequential read and 840MB/s sequential write.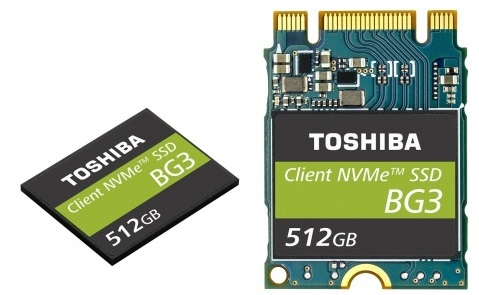 The new BG3 series will be available in three capacities, 128GB, 256GB and 512GB. Each capacity is aligned with the industry's smallest-class SSD form factors, the surface-mount 16mm x 20mm x 1.5mm single package M.2 1620 and the removable M.2 2230 module. The BG3 series has more compact dimensions than previous generation products, with 128GB and 256GB single package models conforming to the thin 1.35mm of M.2 1620-S2 and 512GB single package models conforming to the 1.5mm of M.2 1620-S3.
Security needs will be addressed by also offering self-encrypting drive (SED) models supporting TCG Opal Version 2.01.
The BG3 series will be exhibited at the Flash Memory Summit 2017 in Santa Clara, California, USA from August 8 to 10, 2017