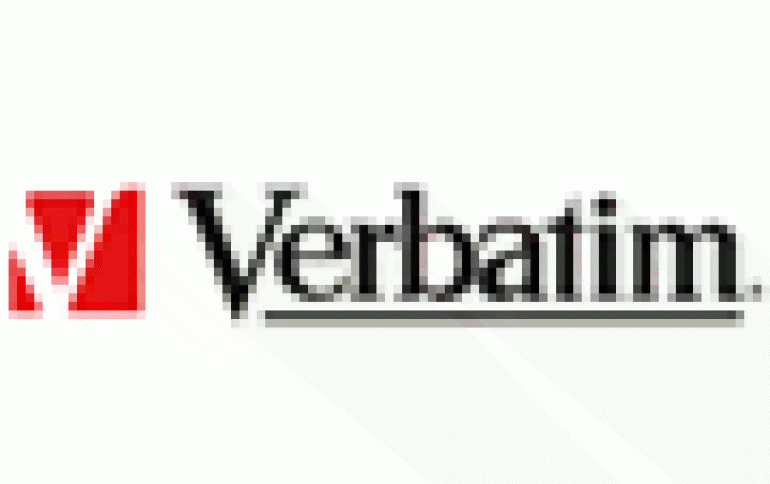 Verbatim Begins Final Testing of New 8x DVD+RW Media
Verbatim Corporation announced at CES today that it expects to begin shipping its new 8x DVD+RW media to retailers in Q1 2005.
DVD burner manufacturers and their software suppliers have started using the media for drive design, read/write and compatibility testing. With the new Verbatim 8x DVD+RW media, users will be able to write or rewrite an entire 4.7GB disc in about 7 minutes.
Applications range from creating video, audio and multimedia files as well as digital photo albums that will be edited or updated. The capacity and performance of the new media will also make it ideal for backups.
To deliver high-speed rewriteable performance, Verbatim produces the media with A-SERL (Advanced Super Eutectic Recording Layer) technology, the proprietary phase-change recording layer technology developed by Mitsubishi Kagaku Media (MKM), Verbatim's parent company. A-SERL technology enables noise-free recording up to 1,000 times by taking the disc back to its original state with every erasure and leaving a virtually flawless disc for the next recording. With conventional rewriteable media, the recording layer deteriorates with every rewrite, causing a decrease in quality. By combining the A-SERL technology with precision stamper and precision molding technologies during the manufacturing process, Verbatim 8x DVD+RW media provides a high level of stability during storage and playback.
Availability
Backed by a limited lifetime warranty, Verbatim 8x DVD+RW media will be available through leading retailers, Internet resellers and distributors across the country late in Q1 2005.