Windows Phone Mango Update Begins
This morning Microsoft began rolling out the Mango update to phones around the world. The Windows Phone 7.5 (aka Mango) update will be gradually released to most existing Windows Phone users within 4 weeks, Microsoft said. Today Microsoft is starting the roll out of Windows Phone 7.5 to more than 98 percent of existing Windows Phone userss. This is a simultaneous, coordinated, global update that cuts across carriers, phone models, and countries.
While today's rollout includes most of Microsoft's carriers and handsets, the company is not making Mango available to everyone at once. This means that it could be a few weeks before an update message for Windows Phone 7.5 appears on your phone. As Eric Hautala, General Manager, Customer Experience Engineering (Microsoft) explains, "delivering Windows Phone 7.5 simultaneously to so many phone models and carriers requires the right engineering balance. Speed is a priority?but so is quality. We?re not just delivering our new operating system but also new software supplied by individual handset makers. This "firmware" is necessary so your phone?and apps?work with all the features of Windows Phone 7.5. But it essentially means that we?re supplying not just one update, but many different ones, given the variety of Windows Phones and carriers out there to choose from."
"If a problem comes to light, it's critical that we can isolate and fix it quickly. So we?re deliberately starting out slow," Hautala added.
This week,the update will be available to 10 percent of Microsoft's customers. If everything looks good, the company will open up the spigot a bit more?to around 25 percent. After holding on there for one or two weeks, then quickly ramp up to 100 percent.
How do I install it?
One day a message pops up on your phone saying an update is available. But now what?
Depending on what kind of computer you have, you?ll need to install either the latest version of the Zune Software for PC or Windows Phone 7 Connector for Mac. Then visit Update Central, Microsoft's one-stop how-to resource for Windows Phone updates.
New Mango Phones
HTC, Samsung and ZTE have unveiled brand new devices running the latest version of Windows Phone.
T-Mobile's upcoming HTC Radar 4G is a medium sized phone (it has a 3.8 LCD display). Under the hood is a 1Ghz Snapdragon processor that delivers snappy performance, and a 5MP camera with LED flash.
T-Mobile customers will be able to get your hands on this one in time for the holidays.
The
Samsung Omnia W
launches around the world, starting in Italy, later this October. This phone is smaller than the Radar, it has a 3.7" display vs. the Radar's 3.8" display. It features a SuperAMOLED display for clear and bright colors. The phone is powered by an 1.4GHz processor and HSPA+ connectivity and sports a 5MP camera.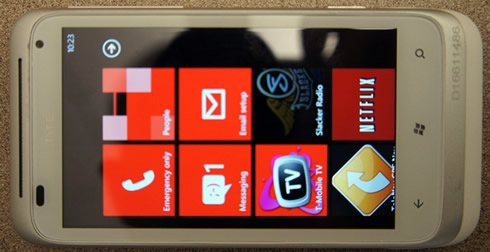 The ZTE Tania, which was unveiled today at a trade show in Asia, has a 4.3" display, meaning it?s a bit bigger than the Radar and the Omnia W, but has similar specs ? 1Ghz processor and 5MP camera.
The Tania will be sold in several European countries later this year.