7. Error Correction Tests page 2
52X IDE CD-RW Recorder Roundup Vol 2 - Page 7
Error Correction Tests page 2

- Aopen CRW5224

Below is the CDSpeed DAE quality test result of the drive with the ABEX TCD-721R test disc. The amount of C2 errors reported is very small and the C2 missed / Compare errors are increased. In addition, 17688 sync errors were reported. The score is very low (0 points!) and the C2 accuracy is also very low.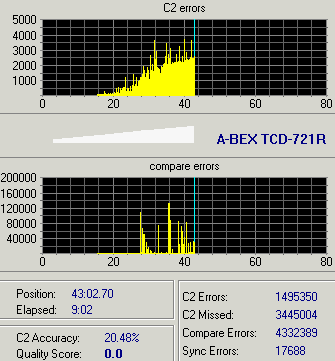 - Mitsumi CR-487ETE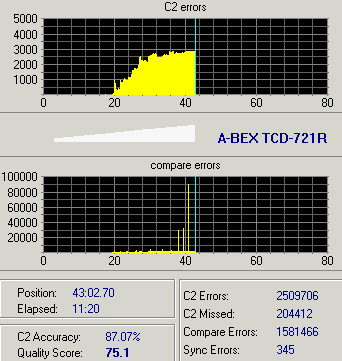 Mitsumi CR-487ETE gave better results and the quality score is 75.1 points. The C2 accuracy is also better than the AOpen's but still the Mitsumi drive cannot retrieve the C2 errors 100% accurately.
- Teac CD-W552E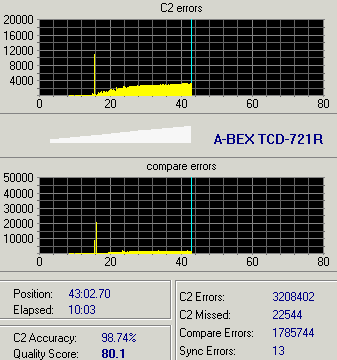 The Teac CD-W552E seems to be the best reader in the test. The amount of C2 errors missed is low and the compare errors / sync errors lead to a total quality score of 80.1 points and a high C2 accuracy.
- Waitec STORM 52/2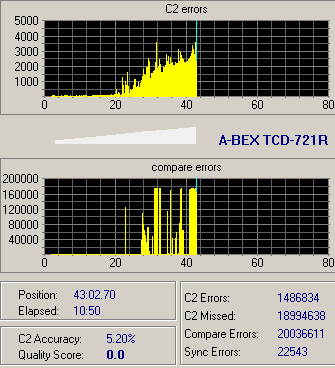 Waitec STORM 52/2 gave the worse results in the test. Both quality score and C2 accuracy are very low.
In the following table you can see the C2 accuracy point scores as they were reported in the previous tests with the EAC test Suite. The highest score comes from Teac CD-552E drive, and the result seems to agree with the CDSpeed results.
Test Disc

Reading Speed

AOpen CRW5224

Mitsumi CR-487ETE

Teac CD-W552E

Waitec STORM 52/2

Score

EAC CD-R

Max

50

50

50

50

ABEX TCD-721R

Max

67

99.5

91

67

ABEX TCD-726

Max

89.3

90.5

100

89.2

Average Score

68.76

80

80.33

68.73
As a last word we could say that the Teac CD-W552E is gave the best error correction results among the tested drives. The C2 accuracy of the drive is also the highest, but not 100% accurate. The Mitsumi CR-487ETE follows in both C2 accuracy and quality areas. AOpen and Waitec drives possibly need some fine tuning.