8. CloneCD Reading Tests
52X IDE CD-RW Recorder Roundup Vol 2 - Page 8
CloneCD Reading Tests
- Procedure
We used CloneCD and 3 original CDs - Serious Sam 2 (SafeDisc 2), V-Rally 2 Expert (SecuROM 2) and NBA Jam Extreme (PSX) - in order to test the reading times of the drives. We also tested the reading performance with backups of the original CDs, since the reading speed varies between original and backup media. The following picture shows reading/writing features of each drive, as CloneCD reports: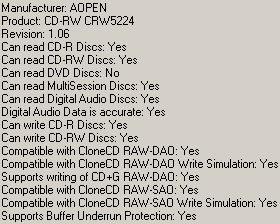 - PSX Pressed Media
We ripped the image to the HD with CloneCD using the default settings. Teac CD-W552E finished the task in just 43 seconds, followed by Mitsumi CR-487ETE. The AOpen and Waitec drives are slower and needed 140 seconds.
- SafeDisc v.2 Results
The fastest drive in this test is Teac CD-W552E. The drive needed approximately 8 minutes for each task (pressed/CD-R). Both AOpen and Waitec drives follow, and it seems to have some problems with the backup title since they needed more than 17 minutes for these tasks.
- SecuROM v.2 Results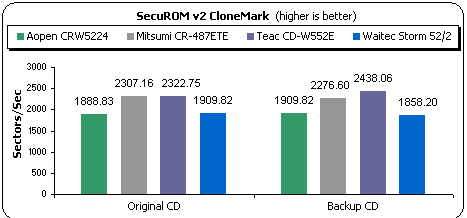 All drives can read SubChannel data from Data/Audio tracks. The duration of the process for the Teac drive was only 2:30 minutes, and again the drive is the faster in the test. The Mitsumi drive follows and is slightly slower.