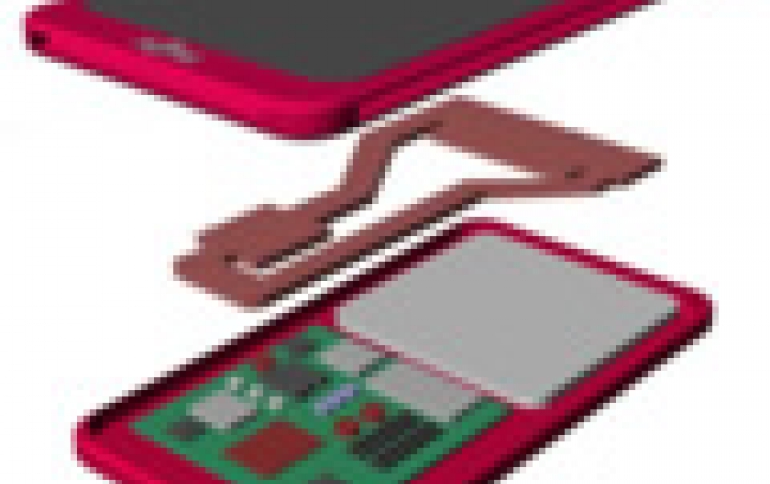 Fujitsu Develops Thin Cooling Device For Smartphones
The latest smartphones, tablets, and other similar mobile devices have increased heat generated from internal components. Fujitsu has developed a thin loop heat pipe, less than one millimeter thick, to solve such overheating problems. With portable devices that cannot accommodate blower fans or water-cooling pumps, the conventional approach for cooling has been to install sheets of metal or graphite with relatively high thermal conductivity to transfer heat away from heat-generating components, thereby avoiding internal hot-spots. With increased amounts of generated heat, however, the thermal conductive properties of these materials alone are no longer sufficient in transferring heat.
Fujitsu's loop heat pipe is less than 1 millimeter thick that can be added to small, thin electronics.
A loop heat pipe is a heat-transfer device that consists of an evaporator that absorbs heat from the heat source and a condenser that dissipates that heat away, with the two components connected by pipes into a loop. A working fluid is encapsulated inside this closed loop as a coolant. The heat from the heat source evaporates the coolant, and the energy that goes into evaporating the coolant is taken away from the heat source, lowering its temperature. It is based off of the same principle used when sprinkling water on pavement to reduce heat.
The thin loop heat pipe that Fujitsu has developed can be installed on a heat-generating component, such as a CPU, in an electronic device so that the heat generated by the component is carried to a relatively cool spot inside the device to diffuse the heat.
Heat transfer using a loop heat pipe is based on the same sort of capillary action that absorbs water in fibers, sponges, and plants. The evaporator contains a porous structure, with the numerous holes driving the fluid with capillary action. To achieve this action, Fujitsu stacked together copper sheets to develop a structure containing minuscule pores. The pattern of holes etched into the sheets is such that the holes of each layer are slightly offset from the adjacent layers. When these sheets are stacked, capillary action is created that causes the fluid to circulate. In addition, by separating the vapor phase and liquid phase, there are two flows of the working fluid within the stacked structure, which enables efficient heat transfer. Furthermore, because the liquid line that returns fluid to the evaporator operates on capillary action, enabling it to stably transfer heat regardless of the device's orientation, this technology can now be applied to mobile devices.
This loop heat pipe uses copper sheets that are only 0.1 mm thick, with two surface sheets and four inner-layer sheets, for a total of six sheets. The previous, approximately 10 mm thick evaporator of the loop heat pipe can now be reduced to 0.6 mm, enabling a heat-transfer device to be equipped to compact mobile devices.
Compared to the previous thin heat pipes and material of highly thermal conductive sheets, this new device allows for approximately five times greater heat transfer, according to Fujitsu. This new technology will allow CPUs and other parts to function at low temperatures while preventing heat concentration within localized areas, thus introducing new possibilities for cooling small electronic devices.
Because this loop heat pipe uses the heat from the heat source to power thermal transfer, without using an external pump or other energy source, it does not increase the overall energy consumption of the device in order to diffuse heat, allowing for convenient and comfortable usage of electronic devices.
Fujitsu will develop design and cost-saving technologies for mobile devices equipped with the thin loop heat pipe, with the aim of introducing a practical implementation during fiscal 2017. The company is also examining potential applications beyond mobile devices, such as to communications infrastructure, medical equipment, and wearable devices.