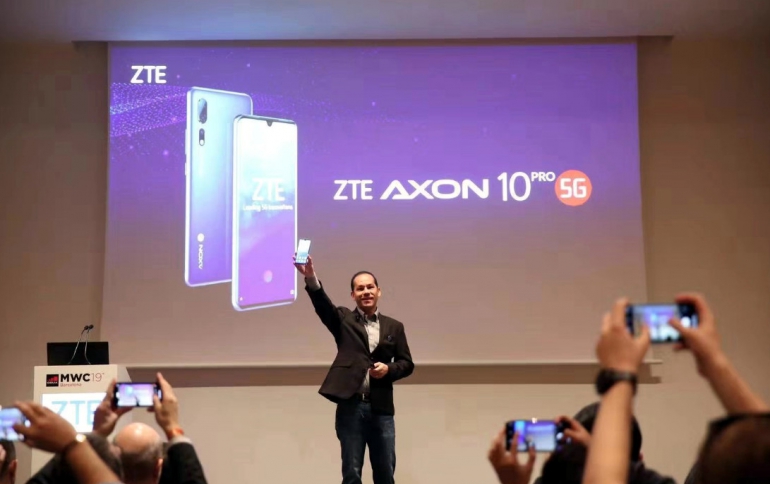 MWC: ZTE Announces the Axon 10 Pro 5G and the Blade V10 Smartphones
ZTE today announced the first 5G flagship smartphone, the ZTE Axon 10 Pro 5G, along with the ew ZTE Blade V10 smartphone, featuring a 32MP AI 'smart selfie' camera, waterdrop screen and octa-core processor.
ZTE Axon 10 Pro 5G
The latest addition to ZTE's premium flagship Axon series is expected to be available in Europe and China in the first half of 2019 from carriers including China Unicom, Elisa and Hutchison Drei Austria.
Engineered with the flagship Qualcomm Snapdragon 855 Mobile Platform along with the Snapdragon X50 5G modem and an AI Performance Engine, the ZTE Axon 10 Pro 5G supports sub 6G. The Axon 10 Pro 5G also features an elegant design, faster and more concise in-display fingerprint and great audio, while its Axon Vision graphics optimization capabilities contribute to enhanced photos and videos.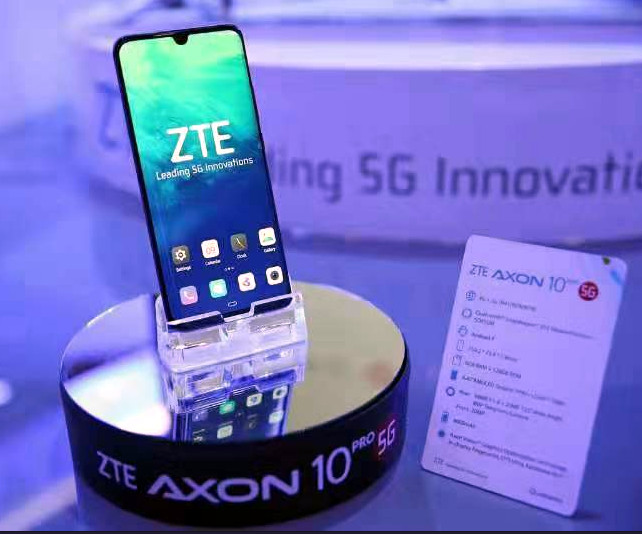 ZTE engineers addressed a wide variety of technical difficulties inherent to 5G, such as the electromagnetic compatibility, antenna design, power consumption and heat dissipation in the development process of the 5G flagship. For example, ZTE used a model corresponding to total power consumption and surface temperature and successfully improved heat dissipation by applying a liquid cooling technology and composite phase-change thermal materials.
The latest addition to ZTE's premium flagship Axon series also implements a fully self-developed, full-band antenna design to achieve full coverage of 2G/3G/4G/5G and effectively improved system performance by reducing signal interference. In addition, ZTE's Axon 10 Pro 5G smartphone applies a slot antenna and adjustable antenna architecture solution to ensure the best RF signal by automatically identifying user usage scenarios.
In addition, ZTE adopts the Smart SAR solution to intelligently reduce electromagnetic radiation and minimize damage to the human body on the basis of ensuring signals.

Finally, the ZTE 5G flagship smartphone delivers gains in both size and thickness, as compared to a 4G smartphone, by adopting a large number of small components under an accurate and integrated "sandwich" layout.
ZTE's new-generation AI performance engine gives consumers the ability to multitask with confidence through the automatic adjustment of CPU, GPU, RAM and ROM using AI algorithms. In addition, ZTE's Axon 10 Pro 5G applies AI to deliver a diverse set of functions such as the AI triple-camera, AI motion capture, AI scene recognition, AI portrait lighting adjustment, AI user behavior learning and AI everywhere.
ZTE is deploying 5G terminal tests and is in cooperation with mainstream carriers in 8 countries around the world.
Blade V10
ZTE also today announced at MWC 2019 the new ZTE Blade V10 smartphone, featuring a 32MP AI 'smart selfie' camera, waterdrop screen and octa-core processor.
Available in the China and Europe markets in March and the Latin America market in April, the Blade V10 features a 32MP photo-sensitive enhanced front camera, and advanced AI 'smart selfie' technology.
AI technology is used to adjust and perfect selfies taken with the high megapixel camera to create high quality photos, without losing details in a backlit or low-lit environment. Also, as the successor of the previous Blade V9 lowlight camera, the new generation produces lowlight images that are clearer and softer.
The ZTE Blade V10 applies AI scene recognition technology and can identify 300+ scenes in preview mode to intelligently adapt corresponding camera technology and capture the best shots. It is also equipped with a 16MP AI dual-camera to further enhance moments captured in low light.
The ZTE Blade V10 has a compact, curved design. Featuring a waterdrop notch screen with an ultra-narrow margin and hidden sensors, the device is easy to control in one hand. Through a porcelain multi-layer stacking process and high-precision molds, it achieves a ceramic-like feel. Its small body also offers a broader view by applying the 6.3" full density screen with 90.3% screen ratio, 2280x1080 FHD+, 400PPI.
The ZTE Blade V10 will be equipped with the latest Android P system, adapt MiFavor9.0 UI, and an octa-core processor. Additionally, a new generation AI acceleration engine provides AI functions including AI voice assistant, AI face recognition, AI image recognition, AI game assistant, and AI smart power saving.