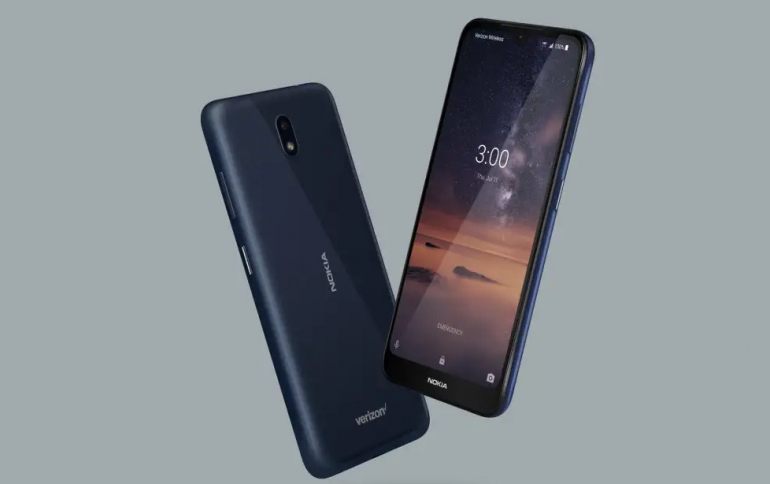 Nokia 3 V Launching on Verizon
HMD Global announced that the Nokia 3 V will be available to buy exclusively from Verizon for $168 starting August 23, 2019.
Nokia 3 V combines a large HD+ display for the price with a two-day battery life and is powered by the latest Android 9 Pie experience.
To squeeze every last drop out of the huge battery, the Adaptive Battery feature introduced in Android 9 Pie manages background applications using AI, learning from user behaviour to know when to throttle or increase power to specific apps or processes. It even has enough power to go two days with an expansive screen. Nokia 3 V features a 6.26" HD+ display, it is powered by the Qualcomm Snapdragon 429 mobile platform and is available with up to 2/16GB memory configuration.
With the Google Assistant button, you get instant access to the Google Assistant to get directions, make calls, listen to music and get answers to your questions. You can double press the button to receive a visual overview of your day from the Assistant with intelligent suggestions and personalised information, including transport info, bills that need paying and what you have in your calendar to make sure you never miss a meeting again. By long pressing the button, you will activate a walkie-talkie mode, which lets the Google Assistant listen to you until you release it for long sentence queries.
Many of the premium features on Nokia 3 V are powered by AI, including face unlock to give you a quick, handsfree way to unlock your smartphone or exclusive Google Assistant actions to open apps quicker, including launching the camera app. The Nokia 3 V also lets you access your Google Assistant without unlocking your phone, after opting-in through your settings, you'll be able to perform basic tasks like setting a timer, scheduling reminders, playing music or asking it questions.
The Nokia 3 V comes with 2GB of RAM and 16GB of ROM and is available in Blue. It will be available on August 23, 2019 in select Verizon stores and on VerizonWireless.com for $7 a month for 24 months on Verizon device payment (0% APR, $168 retail).