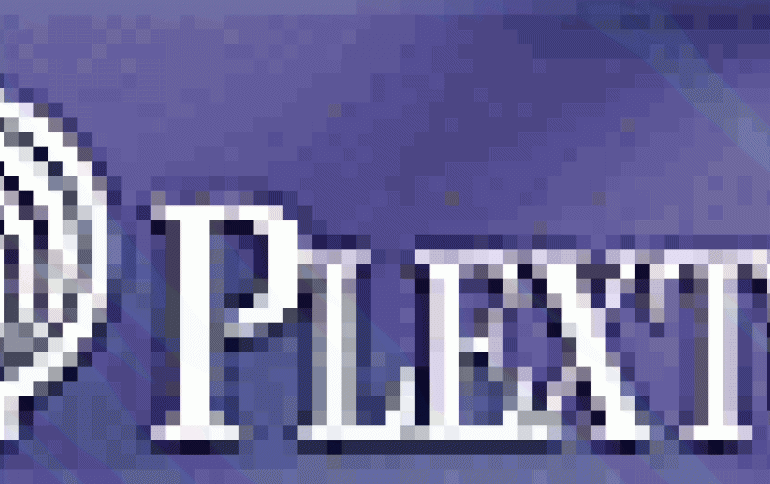 Plextor Announces PX-716UF External 16X DVD±R Recorder
Plextor, one of the leading companies for the development and production of reliable, high quality CD/DVD peripherals is expanding its range with its first external Double layer Dual Format drive.
The PX-716UF writes at 16X for DVD+R, 16X for DVD-R and 4X for DVD+R DL (Double Layer). The drive rewrites 8X DVD+RW and 4X DVD-RW. The PX-716UF reads CD-ROMs at 48X and DVD-ROMs at 16X.
The PX-716UF is an external drive with a Tray load mechanism. The Retail package includes: PX-716UF (DVD Recorder), USB cable, IEEE 1394 (FireWire) cable, power cable, power adapter, Plextor CD/DVD Utility Software (PlexTools Professional), 16-language manual, attractive software from: Ahead, Pinnacle, Cyberlink, Sonic and Ulead (full and trial versions).
The PX-716UF is supported by a Fast Warranty Service by Plextor, by which any inconveniences resulting from a defect are reduced to a minimum. The firmware is stored in FlashROM which makes it possible to quickly and easily upgrade to the latest version. CD TEXT is also completely supported.
With the PX-716UF, the user has a perfect all-in-one product for creating own home videos, back-ups, composition of photograph collections, saving music...
PX-716UF Benefits



Writing DVD+R: 16x
          DVD-R: 16x
          DL DVD+R: 4X
          CD-R: 48x
Rewriting DVD+RW: 8x
             DVD-RW: 4x
             CD-RW: 24x
Reading DVD-ROM: 16x
           CD-ROM: 48x
Buffer Underrun Proof Technology: Stops buffer underrun errors
GigaRec Technology
Intelligent Recording

'AutoStrategy' is a self-learning writing technology to optimise the writing quality on any type of media
'Intelligent Tilt' controls the laser in three dimensions, to ensure high quality writing and reading if the disc surface has imperfections
'PoweRec' is a complex piece of writing intelligence ensuring superior recording quality at high speeds on certified media

SecureRecording Technology
Silent Mode
Q-Check
VariRec Technology
Supports Lossless Linking (DVD+R/RW)
Zero Link (DVD-R/RW)
Supports Background Formatting
Access Time <100 ms for CD; 150 ms for DVD
8MB Buffer
USB 2.0 + IEEE 1394 (FireWire) interface
PC Compatibility:

Pentium 4 1.4Ghz or higher
256MB Memory
10GB of free disk space

Compatible with:

Windows 98 SE, Windows Me, Windows 2000, Windows XP

MultiRead Compatible
Supports SPDIF (Digital Audio Output)
High Quality Digital Audio Extraction
A black tray, to reduce the jitter and to increase the quality of the burned CD
Two year fast warranty service (EU, Norway and Switzerland: Collect & Return); 1 year in other countries.
Compatible formats:

CD (Read/Write)
CD-DA, CD-Extra, CD-ROM Mode-1, CD-ROM Mode-2, CD-ROM XA, Photo-CD, Video-CD, Multisession, CD TEXT, CD-I, CD+G, Mixed CD
CD-R/RW (Write)
Track at Once, Disc at Once, Packet Write (variable and fixed), Session at Once
DVD (Read/Write)
DVD-ROM, DVD-Video, Multiborder, Multisession, DVD+VR, DVD-VR
DVD+R/RW (Write)
DVD+R:Disc at Once, Multisession, Incremental Recording
DVD+R DL: Disc at Once
DVD+RW: Sequential Write, Random Access Write
DVD-R/RW (Write)
DVD-R: Disc at Once, Multiborder recording, Incremental recording
DVD-RW: Disc at Once, Multiborder recording, Incremental recording, Restricted Overwriting, DRT-DM

Wide CD-R and CD-RW media compatibility
Wide range DVD+R/RW media compatibility
Includes PlexTools Professional
Specifications

PX-716UF

 
CD
 
DVD
Disc
 
Usable Formats
Write
ReWrite
Read
Play
 
Write
ReWrite
Read
Play
-- CD-DA
*
*
*
*
 
 
 
 
 
-- CD-ROM
*
*
*
 
 
 
 
 
 
-- CD-ROM + CD-DA
*
*
*
*
 
 
 
 
 
-- CD-ROM XA
*
*
*
 
 
 
 
 
 
-- CD-I
*
*
*
 
 
 
 
 
 
-- PHOTO-CD
*
*
*
 
 
 
 
 
 
-- VIDEO-CD
*
*
*
 
 
 
 
 
 
-- CD-Extra
*
*
*
*
 
 
 
 
 
-- CD-TEXT
*
*
*
 
 
 
 
 
 
-- Mixed CD
*
*
*
 
 
 
 
 
 
-- MULTISESSION
*
*
*
 
 
*
 
 
 
-- DVD-ROM
 
 
 
 
 
*
*
*
 
-- DVD-VIDEO
 
 
 
 
 
*
*
*
*
-- CD+G
*
*
*
 
 
 
 
 
 
 

Writing Modes
Track at once
 
 
 
Session at once
 
 
 
Disc at once
 
Disc at once
 
Multisession
 
Multisession (only for DVD+R)
 
Packet writing
 
Packet writing
 
 
 
Random Access Write
 
 
 
Sequential Write
 

VariRec
PoweRec Explanation
Buffer Underrun Proof Technology
Lossless Linking
Zero Linking
Performance
 
 
 
Data Transfer Rate
-- Burst (UDMA/33)
33MB/s
-- Write
DVD+R
DVD-R
CD-R
 
16x: 22.160KB/s (CAV)
16x: 22.160KB/s (CAV)
48x: 7.200KB/s (CAV)
 
12x: 16.620KB/s (PCAV)
12x: 16.620KB/s (PCAV)
32x: 4.800KB/s (PCAV)
 
6-8x: 8.310-11.080KB/s (PCAV)
6-8x: 8.310-11.080KB/s (PCAV)
16x: 2.400KB/s (CLV)
 
6x: 8.310KB/s (CLV)
6x: 8.310KB/s (CLV)
8x: 1.200KB/s (CLV)
 
4x: 5.540KB/s (CLV)
4x: 5.540KB/s (CLV)
4x: 600KB/s (CLV)
 
2.4x: 3.324KB/s (CLV)
2x: 2.770KB/s (CLV)
 
 
DVD+R DL
 
 
 
4x: 5.540KB/s (CLV)
 
 
 
2.4x: 3.324KB/s (CLV)
 
 
-- ReWrite
DVD+RW
DVD-RW
CD-RW
 
6-8x: 8.310-11.080KB/s (PCAV)
4x: 5.540KB/s (CLV)
24x: 3.600KB/s (PCAV)
 
6x: 8.310KB/s (CLV)
2x: 2.770KB/s (CLV)
10x: 1.500KB/s (CLV)
 
4x: 5.540KB/s (CLV)
1x: 1.385KB/s (CLV)
4x: 600KB/s (CLV)
 
2.4x: 3.324KB/s (CLV)
 
 
-- Read
DVD-ROM
 
CD-ROM
 
6-16x CAV
 
20-48x CAV
 
5-12x CAV
 
17-40x CAV
 
3-8x CAV
 
14-32x CAV
 
2-5x CAV
 
10-24x CAV
 
2x CLV
 
8x CLV
 
 
 
4x CLV
Access Time
<100ms (CD)
<150ms (DVD)
Data Buffer
8MB
Error Rate
Mode1: less than 10-12bits
 
Mode2: less than 10-9bits

Front Panel
Eject
Auto Eject/Manual Emergency
Disc Loading
Tray, Auto load/auto eject

Rear Panel
Power Supply
DC +5V and DC +12V

Dimensions & Weight
Dimensions
184 x 52 x 265 mm
Weight
1,7 kg

Reliability
MTBF
60.000 POH
Tray Loading Eject
50.000 times
Warranty
2 year Fast Warranty Service (in EU, Norway and Switzerland: Collect & Return); 1 year in other countries