Samsung SDI to Showcase Latest EV batteries at Detroit Auto Show
Samsung SDI will showcase its next-generation battery cells with innovative materials and differentiated designs at the 2019 Detroit Motor Show (NAIAS 2019) held at COBO Center in Detroit, USA, on July 14 (local time).
The company will present "A Roadmap for All Solid-state Battery Technology," which is the core of the next-generation battery technologies.
The concept of SDI's exhibition at the 2019 Detroit Motor Show is "Charged for Auto 2.0," which implies a message: batteries of the future vehicles are ready for the Auto 2.0 era. Auto 2.0 is the term first introduced by Goldman Sachs in 2017, representing an era of self-driving, electrified vehicles, hyper-connectivity, and vehicle sharing. The exhibition consists of three concepts: 1. EV (Future Mobility Platform), 2 PHEV (Mass & Prestige of Electric Vehicles), and 3. LVS (Enhancing Efficiency of Internal Combustion Engine).
Samsung SDI has concentrated on differentiating its technology by introducing products that incorporate products where innovative materials and designs are applied as well as battery cells capable of running at 600 km and a lineup of battery cells of various generations - from 37Ah (ampere-hour) to 78Ah - that can apply to EV and PHEV.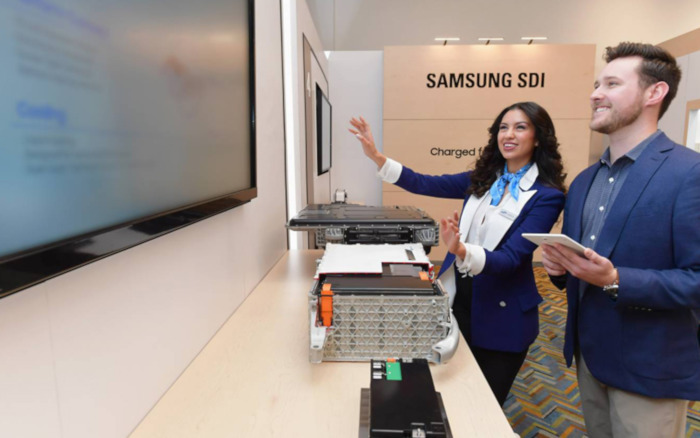 The new products to be introduced by Samsung SDI are expected to significantly reduce the number of cells per vehicle, which can increase the energy capacity.
Samsung SDI will introduce a roadmap for all solid-state battery technology as next-generation batteries and exhibited various products including an advanced LVS (Low Voltage System) pack. Electrolyte, one of the four major battery materials (anode, cathode, electrolyte, and separation membrane), in all solid-state batteries is solid, not liquid, which ensures the highest safety and mileage of over 700km with a single charge.
The company earlier said it plans to build a US$62.7 million high-volume battery pack manufacturing facility in Michigan, the first of its kind in the U.S.