Waitec presents the evolution of ACTION 16.
ACTION 164 is the new 16x/16x DVD double layer dual format available from end of March 2005.
Waitec continues to improve the specifications of its DVD Burners ACTION series. Waitec is proud to present the evolution of Action 16: from a double layer speed of 2.4x Waitec jumps to 4x with Action 164. Action 164 is a very fast Eide/Atapi DVD Burner able to burn at the amazing speed of 16x in DVD+RW and DVD-RW and most importantly able to burn in Double Layer at the incredible speed of 4x!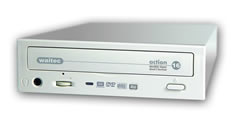 With Action 164 you can double the capacity of all your media and is the perfect solution for the movie lovers and fantastic for the PC freaks, who are always in need and in search for the best products in the market. Action 164 is the ultimate DVD Burner as well as CD Recorder able to burn all your CD Media at the speed of 48x24x48x. Action 164 like all Waitec DVD Burners is implemented with Safe Link Technology which prevents all buffer under-runs and comes with a very useful Nero Software: ideal for back-up, editing, authoring and of course burning all the files you require.
Action 164 suggested end-user price is ? 75 VAT included
For further informations please contact:
Samantha Brizzi
Marketing and Communications Manager
Tel: 0039 06 66 500 138
Fax: 0039 06 66 41 8330
Email: samantha.brizzi@waitec.com
www.waitec.com