Acer Unveils New Chromebox CXI and Chromebook 11
Acer is bringing Google's Chrome operating system to desktops with a new unit that will arrive in the U.S. next month. Like the C7 company's Chromebook series, the new Acer Chromebox CXI is fast; it boots up in about 8 seconds and resumes nearly instantly from sleep mode thanks to the 16GB Solid State Drive. For those who don't require a mobile platform, the CXI is housed in a compact 0.6 liter (165.45 x 130.21 x 33.20 mm) chassis that stands upright or hangs on the back of a monitor.
The Chromebox CXI is powered by a Celeron 2957U processor based on the Intel Haswell micro-architecture. It supports up to 4GB of DDR3 1600Mhz memory and packs Intel HD graphics. Plus, the Acer Chromebox CXI provides wireless connectivity via 802.11a/b/g/n WiFi, Bluetooth 4.0 and Gigabit Ethernet. Four USB 3.0 ports include two with power off charging for smartphones and tablets. They can also access other media and files through the SD card reader that supports up to a 32GB SD card. The Chromebox CXI pushes video and content to external displays and HDTVs via HDMI and DisplayPort. In addition, a combo audio jack is provided for connecting a microphone and headset, while a LAN port enables a wired network connection. The system comes bundled with a VESA mount kit and a Google approved USB keyboard and mouse, powered by an AC adapter.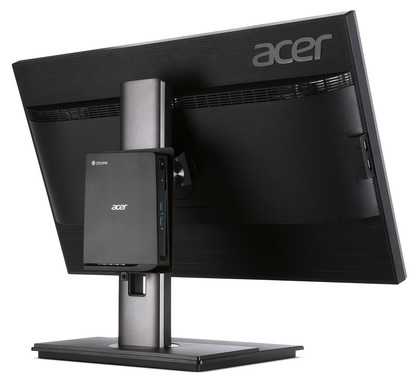 It's priced from US$179.99.
Acer also today announced the Chromebook 11. There are two models: the CB3-111 consumer model in an immaculate Moonstone White color, and the C730 commercial/education model in Granite Gray.
The Acer Chromebook 11 meets the needs of students, families, anyone on a budget, as a secondary device. It packs the
latest 802.11ac wireless communication, Bluetooth 4.0 technology and one USB 3.0 port. Up to 8.5 hours of battery life means users can fit in plenty of work and entertainment throughout the day.
The Intel Celeron N2830 processor, based on the Intel Bay Trail M architecture, and eMMC 16/32 GB solid-state drive helps this system boot and perform fast. The Chromebook 11 comes with an 11.6-inch HD 1366 x 768 display, 16:9 wide aspect ratio, and Acer ComfyView LED backlit TFT LCD. Input/output ports include USB 3.0 and USB 2.0 ports, SD Card reader, combo headphone/speaker jack, and HDMI port.
The Chromebook 11 (CB3-111) for consumers is slimmer than its predecessor measuring 299 x 202 x 18.65 mm with a reduced height, and weighs 1.1kg (2.43 lbs.).
The Chromebook 11 (C730) for the commercial/education with improved structural design can withstand a 60% higher drop test than the consumer model, and features a water spill proof keyboard/touchpad with drainage channel designed to tackle the higher possibilities of spills and drops in businesses and schools. This model measures 302.6 x 206.6 x 21.75 mm and weighs 1.4 kg (3.09 lbs.)
No price was given for either product, but Acer's upcoming larger Chromebook 13 will start at $279.
Both the Acer Chromebox CXI and Chromebook 11 pack all the security and auto-synchronization convenience of Chrome OS.
Powerwash enables IT to clear all local user data stored in the Chrome device by resetting it to its original factory state. Using this feature, all data stored on the device such as files, photos, owner permissions, and saved networks, will be deleted for all accounts. After clearing this data, the IT professional is guided through the initial setup again. Resetting the device doesn't affect the accounts themselves, or any data synced to these accounts.
IT professionals will find that it's simple to control a fleet of Chrome devices via the web-based Google Management Console, which makes it possible to deploy an app from 1 to thousands of Chrome-based devices with a single click of a button. The OS and all downloaded applications are automatically updated every six weeks.
Acer's Chrome devices come with pre-installed web apps and over 30,000 additional apps, themes and extensions on the Chrome Web Store. After the user signs into Chrome with a Google account, they are signed into Google services. Their bookmarks, history and settings are synced across all of their devices and computers running Chrome. Once logged in, they can surf the Internet with the Chrome browser, read and send emails from Gmail, search the web with Google Search, create documents, spreadsheets, presentations and more with Google Drive, as well as watch videos from YouTube, etc.
Users can log into their own account to access Gmail, Docs, website bookmarks and other information. Storage on Google Drive 4 protects files, documents, and photos in the cloud. Plus, users of Acer Chrome devices can view, edit, create and collaborate on-line and off-line with a growing number of programs, such as Office documents and Gmail.
Every time the Chrome OS boots, it checks the integrity and validity of system files. If it detects any anomaly or unauthorized change, the system will restore from a prior backup. User and system files are stored on separate partitions that keep data secure and make restoration from a backup simple. Individual user's data is encrypted automatically and protected by the TPM 1.2 chip, which generates and stores secure cryptographic keys, enabling IT professionals to read data from a stolen Chrome device.