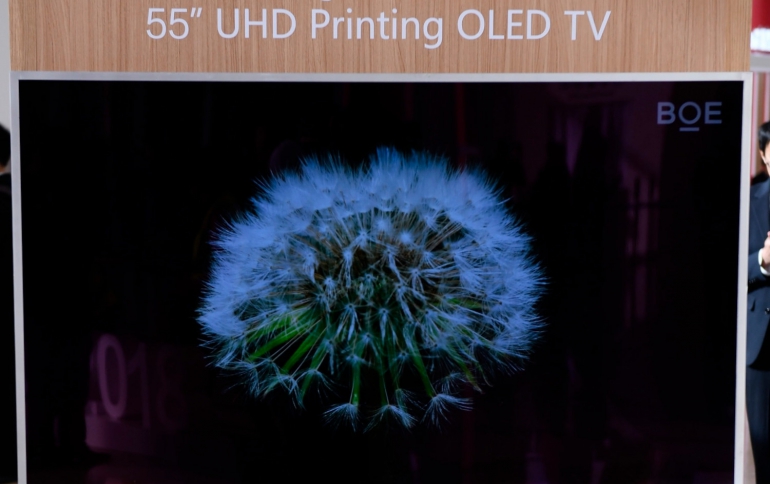 China's BOE Develops 55-inch 4K OLED TV Using Inkjet Printing Technology
Chinese display maker BOE has developed a 55-inch and 4K OLED TVs using the inkjet printing technology, which improves the utilization rate of organic materials and reduces costs.
Current OLED producing methods rely on evaporation processes, in which the organic materials are deposited onto a glass sheet through a thin metal stencil, also known as a "shadow mask". The disadvantages of this process is that a significant amount of the material is wasted because it disperses all over the mask, in addition to inherent mask changes which expose the sheet to dust and compromise yields (OLEDs are by nature sensitive to contamination).
Inkjet OLED printing has the ability to allow precision deposits without the use of a mask. It also produces less stray particles, thus boosting yields.
Inkjet methods form films by discharging the required amount of organic material onto large glass substrates in regular atmospheric conditions. This could be done, for example, by placing OLED pixels on glass or plastic using a portable platform and nozzles. Such methods have the potential to increase yields and lower prices.
"With inkjet printing technology, material utilization has reached 90 percent," BOE said. "There are significant benefits in terms of equipment and material costs," the company added, during the "BOE Innovation Partners Conference (IPC) 2018" that was held earlier this month in Beijing.
BOE's 55-inch 4K OLED display offers a contrast ratio is 1000000:1, and covers the 96.8% of the NTSC color gamut.
The OLED TV was developed at the BOE's factory in Hefei factory. BOE signed an agreement with Hefei government in Anhui Province last February to create a printing OLED technology platform. The total investment amount is about 160 billion won (1 billion yuan).
Reffering to BOE's new OLED, Chinese reported that "the first Chinese OLED TV made with printing technology will overcome the Korean monopoly of OLED industry".
Despite the progress in OLED inkjet printing technology, it is maintained that soluble OLED materials required for inkjet printing are less effective than evaporable ones. Ink-Jet printing is also not able to reach the same high densities of evaporation OLED production, which limits its applications for large-area production (TV panels) and not small mobile, VR and wearable OLEDs.
LG Display's OLED, the only large OLED panel commercialized worldwide, uses white OLED and the vapor deposition technology. LG Display is also building a large OLED panel factory in Guangzhou, Guangdong Province, China, through a joint venture with Guangzhou City.