18. Booktype Setting
As with most latest release drives, so too with the PX-750A, we find support fro the BookType Setting. By using this option, the drive allows the user to manually change the booktype of a media, prior to burning it, in order to maximize compatibility with stand alone players, The booktype change can only be made with +R,+RW,+R DL media, and can be changed to DVD-ROM which is the booktype for all pressed media releases and is therefore less likely to cause any problems with available players on the market.
We tested the booktype capabilities of the PX-750A drive through the use of the Nero CD-DVD Speed utility.
1. We used a blank DVD+RW media and we chose the DVD-ROM booktype from the drop down menu...

2. By pressing the "Set" button, we enabled the DVD-ROM setting and after a few seconds, the program informs us of the successfully change...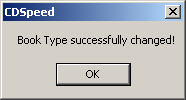 3. Notice now that both the utility and the drive recognise the media as DVD-ROM instead of DVD+RW which it was, prior to the Booktype change.