3. Installation - Page 1
After unpacking the DP-558, we hooked up the antenna cable to the recorder and connected the TV via the SCART output cable. As KISS Technology suggests, the TV Tuner inside DP-558, will give much better picture than most TVs. This setup however has a big negative. In order to watch TV, you have to use the DP-558 functions and not your TV, so its suggested you use a second antenna cable and bypass the DP-558 TV tuner. Next step was to connect the device to the local ethernet network. We simply used a 10/100 cable and connected it to our switch/router, which was connected to the internet. The player automatically determined the IP settings and was immediately able to access the Internet. In case you need to use a different setup, you will need to make changes in the appropriate setup menu.
When we powered up the DP-558 for the first time, the welcome screen came up followed by the quick setup wizard. The first thing on the agenda is to choose the language.
We chose English and were then prompted to indicate our location (region/country):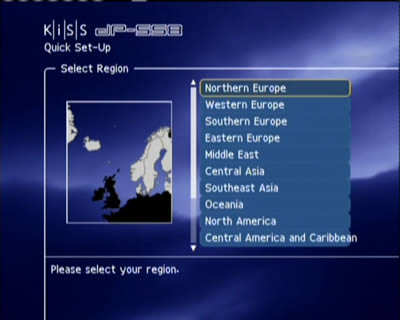 This is then followed by the type of video connection used between the player and our TV, the format of our TV (widescreen or conventional) and finally, our audio configuration: